Detroit Metro Times // Meredith Morrison weaves memories into beads at Playground Detroit
Her 'Dreamwork' meditation cloth exhibit runs through August 12
By Randiah Camille Green on Fri, Jul 28, 2023 at 10:36 am
Meredith Morrison's "meditation cloths" aren't made of fabric. They're a mass of tiny beads strung together in a pattern resembling a mycelium network. They certainly look like some type of futuristic cloth, however, as they hang on the walls of Playground Detroit.
"They're something that's in between that you can't quite place your finger on," Morrison tells Metro Times. "Maybe you can't say that's a cloth, or a sculpture, or something of a craft origin, but these really liminal spaces and things without firm delineations are exciting to embrace."
The small-scale seed beads hold Morrison's memories as they're adorned with iridescent cutouts of things that give her nostalgia. The blueprints of her childhood home are scattered about a piece in her "Nostalgia" series along with monarch butterflies and other things that remind her of summer. Those little stick-on earrings most women who grew up in the 1990s remember wearing as girls shimmer on another piece, "Missing Earring." Her "Obsession" pieces are embedded with images of her cats and other hyper-fixations. Another cloth represents anxieties that have crept into her dreams, like getting tested for COVID-19.
And yet, the transparent beads also reflect how our memories fade as images appear fleeting in the mind.
"As you get closer to the cloths you see more of the detail, but they do appear as sort of ghostly figures," Morrison says. "And sometimes it's hard to tell where they start and where they end. So it feels very akin to the way memory works sometimes where you might not be able to fully remember where something came from, where the genesis point of it was, or where it ended."
Making the beaded webs is a meditative process for Morrison, as she sits with a needle, thread, and seed beads musing over specific memories or dreams. It can take up to a month to complete each one, depending on its size.
The experimental fiber artist says she often finds herself stopping mid-bead to journal her thoughts and memories that come to her during the process.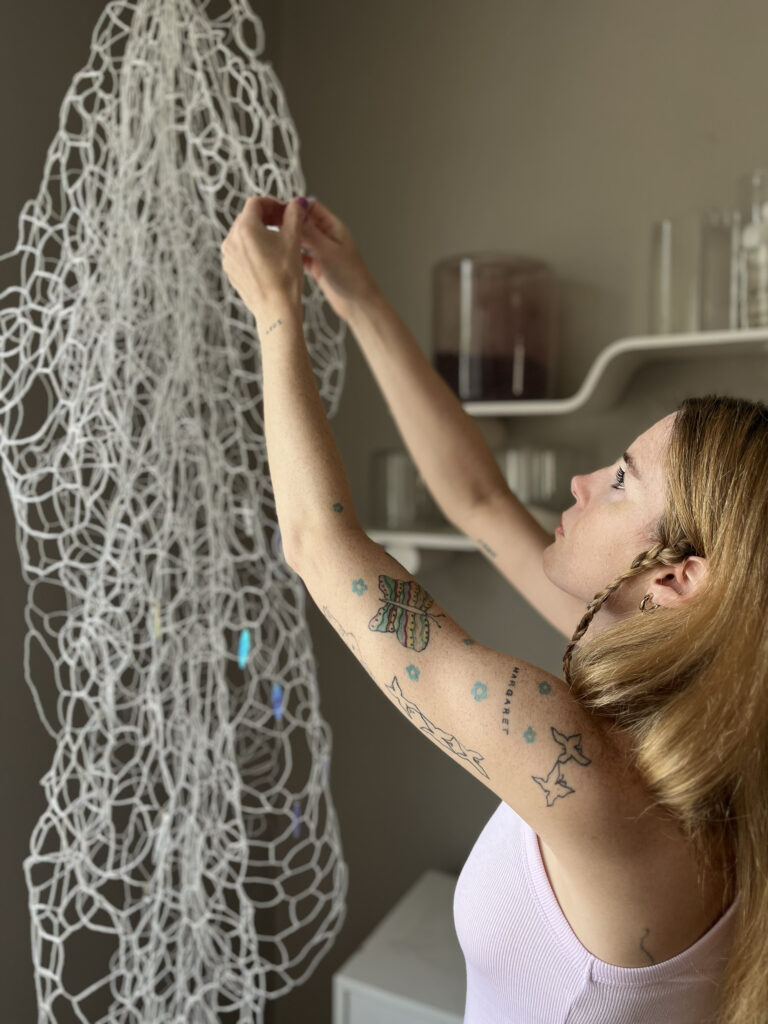 "It's a way for me to process the world around me and to recenter, so I build these cloths with this ongoing intentional revisiting of a memory landscape," she says.
Morrison is one of Playground Detroit's 2022 Emerging Artist Fellows. She is originally from North Carolina and moved to metro Detroit for her Masters of Fine Art in Fiber at Cranbrook Academy of Art, which she obtained in 2021. She previously worked doing commercial design and manufacturing for home furnishings but decided to focus on handcrafts like beading at Cranbrook.
"I use hand processes, specifically beadwork, as a way to slow down," she says. "There's something about the rhythmic quality and intentionality of performing an action over and over again, that provides a generous space for me to be proactively engaging with my memory network… but also be reflecting and be grateful or be processing events of the past and thinking about how to utilize them."
Inspecting the meditation cloths and finding all the embedded objects will take gallery-goers some time, which is intentional on Morrison's part.
"I really want people to think about these meditation cloths as being active investments, and hopefully, think about their own memory landscapes and ways of slowing down in order to look towards the future," she says. "It's important to not just be so demanding of what's next, but to be really cognizant and give care to how things become."
Where to see her work: Dreamwork is on display until Saturday, Aug. 12 at Playground Detroit; 2845 Gratiot Ave., Detroit. Viewing hours are by appointment only. An artist talk is slated for Thursday, Aug. 3 from 6-8 p.m. and there is a yoga class at the gallery to coincide with the exhibit on Sunday, Aug. 13.
Original article: https://www.metrotimes.com/arts/meredith-morrison-weaves-memories-into-beads-in-at-playground-detroit-33734415
The post Detroit Metro Times // Meredith Morrison weaves memories into beads at Playground Detroit appeared first on PLAYGROUND DETROIT.