Lo Braden Portrait Series, "Black+____" Represents Intersectional Black Identities during Black History Month
Emerging artist Lo Braden, also known as Lo Cayne, is a black queer portrait and fashion photographer from Detroit, Michigan. In their striking portrait series, "Black+_______" (Black plus Blank), Braden documents Black people whose identities include various sexual orientations, gender, disability and ages demonstrating the individual ways they express themselves through their style or dress.
Their portraits shine light on those who are most often excluded from the mainstream narrative of American Black Identity. "Black people are not a monolith. There are many of us who stand in the intersections of identities- Black and gay. Black and disabled. Black and non-binary. Many people even identify as all of the above. I want those who view this body of work to realize that there is a range of diversity across Black culture and identities that go unseen."
"I want to capture the essence and soul of Black people, the people who gave birth to so many movements and culture that have historically and continue to influence American culture. My experiences as a black, disabled, queer human run through my nerves to help me usher in a new era of rebirth," explains Lo Braden. 
"The purpose behind my photography series, Black+_______, is to capture how black people present themselves and showcase them in a way that will redefine and at the same time, reference portraits from the Harlem Renaissance."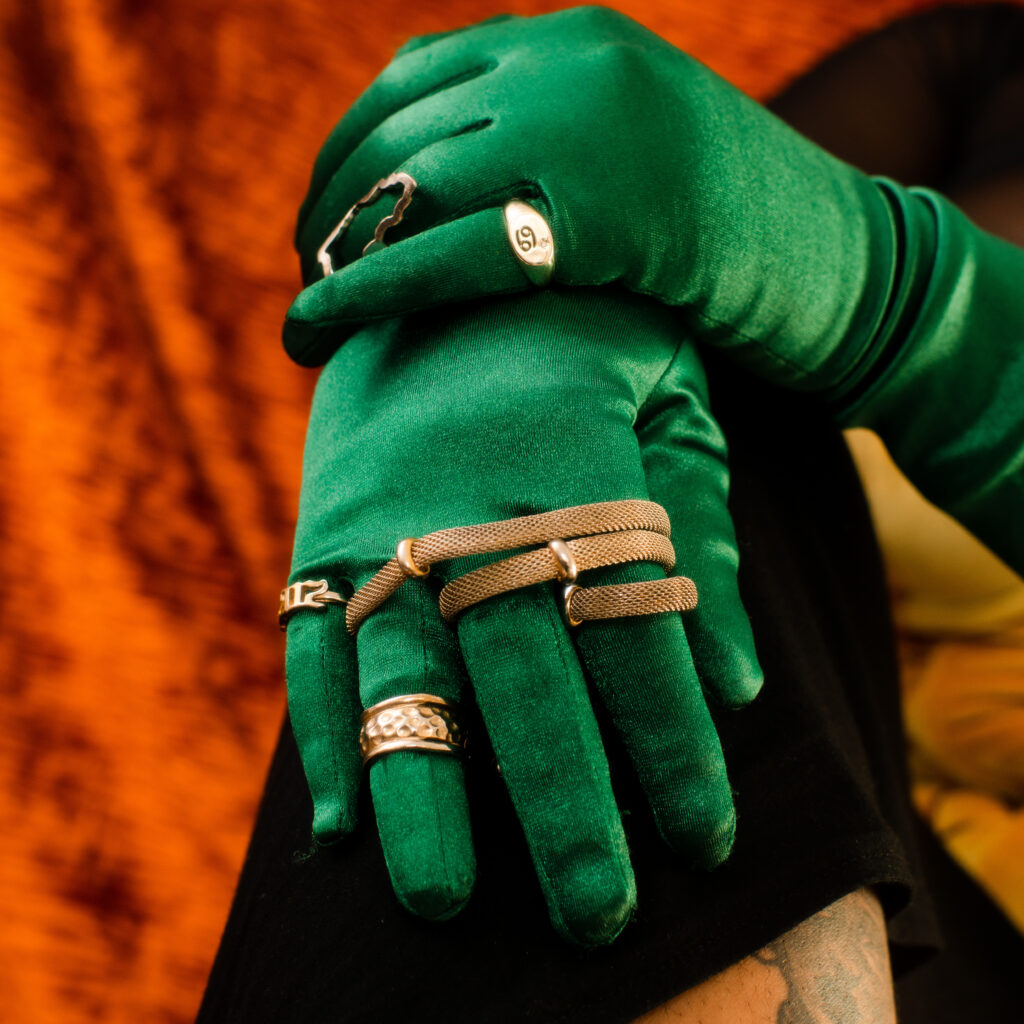 Braden's process used a public open call to outreach and interview their subjects, and then intentionally selected those included. Engaging on an intimate level with each subject to understand what or where 'their safe space is," their responses then inspired each set and location. The resulting portraits are immersed in rich and vibrant colored textiles that boldly pop against melanated skin and lighting effects inspired from the Harlem Renaissance, specifically James van Der Zee.
The subjects represent themselves wearing traditional Black hairstyles and accessories such as cowrie shells, gold rings, necklaces, bracelets and hoop earrings that are symbolic and are associated with Black culture. Braden's work aims to show the beauty and glamour of Black people through careful consideration of color theory, composition and concepts.
Social stigmas and cultural stereotypes are not ever-present in culture, but can proliferate across social media. It is most common that algorithms often favor or elevate people who are likely to be perceived to be abled, straight, and cisgendered. Reversely, it has been noted that other social media accounts of individuals that identify as something outside the 'norm' are also discriminated against online, and do not receive the same engagement or widespread recognition. If and when they do receive public recognition, oftentimes their individual experiences are not taken seriously, and may even be questioned or judged negatively.
Lo Braden is a recipient of the Emerging Artist Fellowship Award to develop their individual practices, to identify, elevate and promote Detroit-based artistic excellence from 2020-2021. Selected artists create a new body of excellent artwork, gain industry experience, skills, knowledge and mentorship, and participate in community programming. 
The Fellowship recognizes artists who are early in their careers with ambitious goals and who demonstrate artistic potential through creative risk-taking along with a clear vision of what they seek to produce and present. Artists were chosen based on their artistic excellence and dedication. The goal of the fellowship is to identify, celebrate and elevate emerging Detroit artistic excellence by providing much needed resources and is supported by The John S. and James L. Knight Foundation as a Knight Arts Challenge Detroit 2019 winning project.
ABOUT THE ARTIST
Lo Braden, alias Lo Cayne, is a black queer portrait and fashion photographer from Detroit, Michigan. Braden's photography aims to show the beauty and glamour of black people, through careful consideration of color theory, composition and concepts. Their hope is that they can plant seeds with what they capture and it will grow as inspiration for others to do the same.
In the future, they believe that we'll be able to take whatever we see and project it onto a screen. We will be able to show our perspective and our own point of view straight from our brains. However, that technology doesn't exist just yet, so the closest thing to that concept is the camera. One of the main reasons why they love photography is because they get to "take a vision that I have in the form of a dream, or sudden burst of inspiration- and capture it. Then share it with others."
Their upcoming solo exhibition, Black+_____, ("Black plus Blank") opens during Black History Month on Saturday, February 11th from 6-9PM, and will be on view through March 11, 2023.
The post Lo Braden's Portrait Series, "Black+____" (Black plus Blank) Represents Intersectional Black Identities during Black History Month appeared first on PLAYGROUND DETROIT.