MICHIGAN GLASS PROJECT HOSTS FESTIVAL TO RAISE FUNDS FOR ARTS EDUCATION
Who isn't interested in supporting arts education in Detroit's schools? The Michigan Glass Project Festival is a live art and music festival with the aim of raising $125,000 to support art curriculum in Detroit public schools. The beneficiary of the festival is the non-profit Art Road, which is working to return arts curriculum to Detroit Public Schools who've lost their art programming due to budget cuts.
Since 2004, Art Road has served over 10,000 students with visual art instruction, including over 1600 students this year at Thomas Edison Elementary, Charles Wright Academy of Arts & Science, and Charles L. Spain Elementary & Middle School. Carol Hofgartner, Art Road's Executive Director, says the funding from The Michigan Glass Project "would allow us to grow to an additional elementary school," and continue their mission of providing accessible arts instruction across southeastern Michigan.
The festival will take place from July 20-22nd at the Russell Industrial Center and will host to over 50 musical acts, live glass art demonstrations and exhibits, and a silent auction.
Featured performers include​ ​Kool Keith; Nick Speed Presents D-Cyphered Live, Brooklyn occult blues rocker Breanna Barbara; talkbox master Hazmat; DJ Dez; and Chicago's new rock royalty White Mystery. More info on the lineup and insights from the artists below. 
Weekend passes are $30 and are on sale now.
Check out the complete awesome line-up below including some favorites that you don't want to miss such as DJ Head, Erno, Count Mack, Double Winter, Brad Hales, Crate Digga, Little Animal, DJ Pyscho, and so many more!
This year, HazMat is a local Detroit artist headlining, whose music is a unique fusion of jazz, gospel paired with R&B, house and techno. He believes his music comes from a place in his soul, "that only banging a kick drum can open!" HazMat uses the talk box, a vocal effects tool, to add his own "special layer of entertainment to the show" and create a sound that is unique to him.
Detroit's musical history has had a big impact on his live performances, "from being a young boy tinkering around with a little Casio, to walking on to the stage of the O2 arena, IT WAS ALL DETROIT!" He truly believes that his life would not have been the same if I came up being a musician anywhere else.
Arts education also helped shape HazMat's life and creative career from an early point. Attending the Performing Arts High School DSA was "a safe haven for me and my classmates- we were given complete creative freedom and totally encouraged to find our own artistic value in life."
He further explains, "Raising funds for something as serious as the arts in our public schools is EXTREMELY paramount to me. I'm truly honored to give back to my community and do anything that I can to help a child have access to the arts." More from HazMat here.
In addition to music, The Michigan Glass Project will play host to some of the most talented glass artists from across the country as well. We caught up with Mark Vandenberg, owner of The JuiceBox Studio as well as Drew Kups, co-founder of MGP and artist at Urban Pheasant Glass to talk about the festival and their work.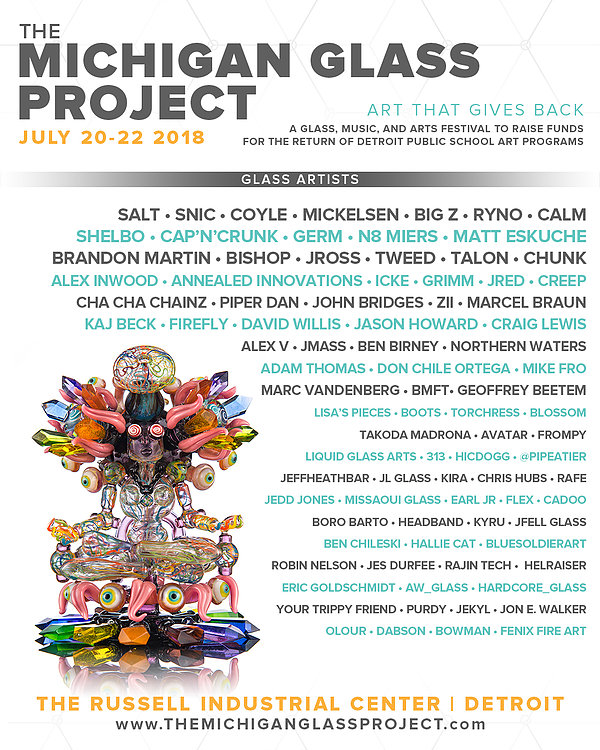 Marc Vandenberg
What makes your style of glassblowing unique?
My approach to glass making is broad in scope. I combine furnace blown glass with flameworked glass taking advantages of each discipline.  The furnace allows for larger scale work while the flame is suited for detailed work. Most of what I consider to be my artwork incorporates the human, animal and entomological imagery.  My work is rooted in technical glassmaking skills heavily influenced by Venetian glass.
What makes me unique in glassmaking is equal proficiency in the furnace and flame, working the same type of glass both in the flame as used in the furnace. The knowledge and skill to bounce back and forth between disciplines opens a world of endless possibilities to express myself.  I've demonstrated and taught internationally having the opportunity to work with the some of the world's best glassmakers.
As a regular participant at MGP, how did you relationship form and why do you support MGP?
The partnership, in my opinion, formed long before either the MGP or The JuiceBox Studio were ever conceived.  I've been friends with Allison Key, Drew Kups and the Urban Pheasant crew for many years. In 2013, the second year of MGP, we partnered up becoming the first Project to feature a hot shop demonstrating traditional glass making as its been done for more than 2000 years.  It truly was an incredible opportunity utilizing our talents to positively impact the local community.
At the time, my studio partner Adam Thomas and I were busy building our current studio located in the Russell Industrial Center. A few months prior to the project we stopped work on the studio and began building our portable hot shop for that years MGP event.  Since then we've taken our portable studio around the region demonstrating at art fairs and recently at a culinary event in Toledo featuring a twelve-course meal using hot glass as the heat source.
What is Juice Box Studio?
The JuiceBox Studio was established in 2013.  Adam Thomas and myself envisioned a studio providing the opportunity to pursue our passion for both flame-working and furnace working.  Most glass studios focus in one of the two hot glass disciplines. Our studio is set up to move seamlessly from the hot shop to the flame exploring innovative ways to work with the material.  
Both Adam and I possess a wide range of glassmaking skills. The breadth of our endeavors include functional and decorative work, commissions, restorative/reproduction work, lighting and pursuit of our individual artistic goals.
A unique program we offer to the public is experiencing hot glass for yourself.  Offering several different projects to choose from, we safely walk you through the process.  Providing the opportunity to personally shape and experience molten glass first hand (no pun intended).  Hot glass is truly a unique and primal experience. Beyond the shaping of your object we believe it's important to talk about glass history, its crucial role innovating our world, the various processes that create products we interact with daily and try to answer any questions someone has regarding glass.  
For more info on Marc and his studio, check out JuiceBox Studio
Drew Kups
MGP has been able to raise funds for various projects and charities, including the Belle Isle Aquarium. How was Art Road chosen as this years charity?
We have been donating to the Belle Isle Aquarium in years past, and it seemed like they were set on course to be funded and time to find some other people in need.  After hearing Art Road's story in person it was clear that we had found our new cause to support.  It was a no brainer for us.
One of our goals is to shed light in some of the darker corners of the city that need some love, and this is a group of people who selflessly dedicated themselves to exactly that. In my mind, we were looking for a group to amplify our efforts and energy to make the most impact. What happens is that we build this thing, artists kill it,  crowds of people fill it, and Art Road brings it all home.  
Our initial input transfers to the artists, who give it to the people, who give us the money that we give to Art Road who in turn puts smiles on kids faces. With each transfer, all of that energy in the system is multiplied until it reaches the hands of the kids where it is returned to the system as a seed planted for future generations. My only hope in all this is that we simply make things better.
What was your experience with art and music classes in school?  
I was lucky and grew up in a house that fully supported any interest I had.  I spent much of my childhood buried in tall piles of white paper with pencil in hand, always scribbling and doodling away. Every notebook I had was filled with drawings and sketches instead of chalkboard notes. I played saxophone, took drafting classes, and got straight C's in art class because I was never on the assignment and off on my own roads.  
I had some great teachers who taught me valuable lessons like perspective, shading, creative problem solving, and mental 3D modeling. These all carried over into my adult life; I use what I had learned in art class every day. It is that out of the box thinking, the creative au jus that burns the tarnish of everyday mundane ritual away.
Art class taught me that life isn't about numbers and words. We are ruled by images and sounds. Our world and the stimulus in it is all a product of design (or chance) and it is up to us on how to perceive it. It is this kind of mental training that is what leads to innovations that make life better for all of us. We are all one and a part of something bigger than pleasing these flesh suits we walk around it.
Art is the road we take to get to one another. Without art class, kids might just find themselves stuck in a two dimensional, colorless world alone with fewer tools in their box than others who have had artistic experience."
What makes your style of glassblowing unique?
Let me start off with a bit of a disclaimer:
People have been blowing glass for centuries, it goes all the way back to Mesopotamia.  As a glass artist, is my job to humble myself and acknowledge that there is very little that has not been done before. Most of the techniques I use have been repeated for centuries by craftsman who possess far superior skill to my own. We are a part of a tradition of glass making that has been going on for hundreds of years.
With that being said, the work we do at the project spans across several different material types, production styles, and represent a wide range of finished products. Glass is ubiquitous and the pieces we make at the show reflect the impact the material has on our everyday lives.
I make pieces that "change color."  It is like painting white on a window and then darkening the background. I use gold and silver as colorant and trap the metals on the surface of the glass. It is a method that has strong ties to the Grateful Dead and jam band culture.  Wink wink.
The post MICHIGAN GLASS PROJECT HOSTS FESTIVAL TO RAISE FUNDS FOR ARTS EDUCATION appeared first on PLAYGROUND DETROIT.