MURALS IN THE MARKET Returns to Eastern Market
Eastern Market Partnership (EMP) Dan Carmody, President, Eastern Market Partnership,
1xRUN, Roula David, Vice President, 1xRUN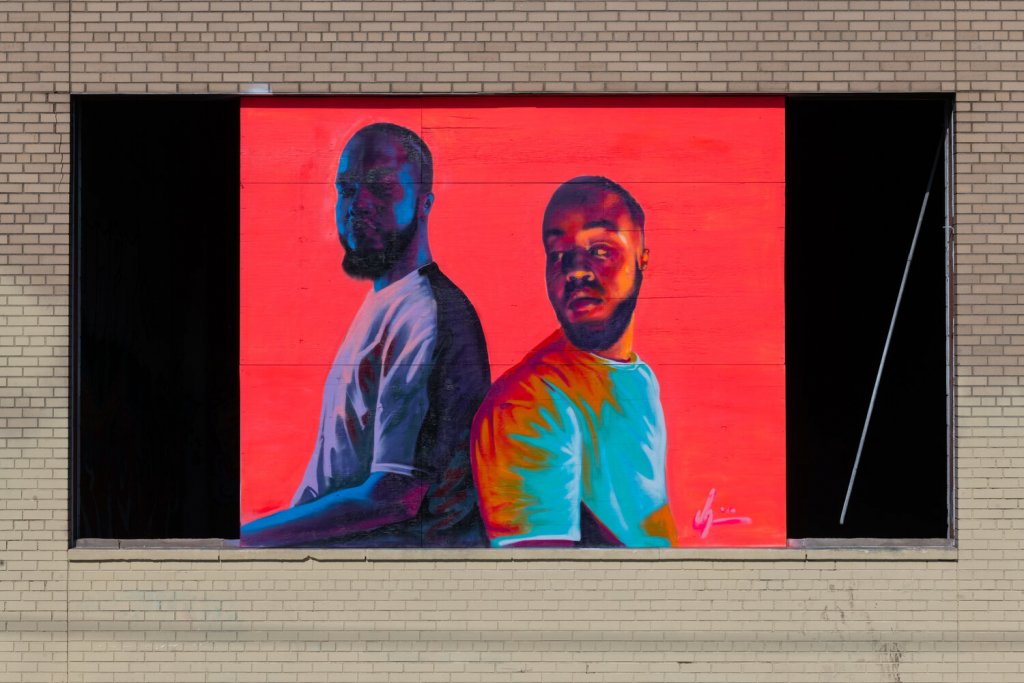 Murals in the Market Festival proudly returns to Eastern Market after two years, hosted by 1xRUN and Eastern Market Partnership.

This year's festival is a smaller version compared to past events from 2015-2019. After a two-year pandemic-related hiatus, Murals in the Market returns with two sets of murals –– one set is dedicated to Eastern Market's farmers on the south and east elevations of Shed 5 –– while another set is dedicated to Eastern Market's makers, which will be installed on the west and north elevations of the Metro Accelerator building at 1420 Adelaide. A few other murals will also be installed, including one dedicated to soil fertility that faces Orleans Street on a wall just south of Wilkins Street, and a re-paint of the mural on the east elevation of the building at the northwest corner of Russell and Adelaide.

Participating Artists: Phil Simpson, Sabrina Nelson, Freddy Diaz, Ashley McFadden, Anthony Lee, Ed Irmen, Jesse Kassel, Sheefy McFly. Featured Makers: Lush Yummies Pie, Sunday's Best Detroit, Gus & Grey, Milk & Froth, FEAST Detroit, LLC.

Featured Farms: Brother Nature, Rutino Vargas, Jentzen Farms, Bucu Farms, Lake Divide Farm.

Audiences can catch the work in progress during Eastern Market After Dark, happening Thursday, September 15, 2022 from 6:00pm – 11:00pm in the Eastern Market sheds. Additionally, the recently unveiled Detroit Unity Bell will be available for viewing in Shed 2. This year's Murals in the Market is sponsored by The Michigan Farm Bureau and Sun Communities.

ABOUT MURALS IN THE MARKET: Between 2015 and 2019, 1xRUN partnered with Eastern Market Partnership to create over 140 murals in Detroit's Historic Eastern Market. Besides making a significant visual impact on the Eastern Market District, it encouraged other beautification efforts, and increased pedestrian traffic, economic activity, and improved public safety in and around the area.
For more information: muralsinthemarket.com • Facebook • Instagram

ABOUT 1XRUN: Based in Detroit, Michigan, 1xRUN (one-time run) is the world's leading
publisher of fine art, and a top online destination for original art and print editions. Shipping to
collectors in over 100 countries around the world, 1xRUN has published more than 5,000
editions since 2010.
For more information: 313.744.6505 • 1xrun.com • Facebook • Instagram • Twitter

ABOUT EASTERN MARKET PARTNERSHIP: Eastern Market Partnership (EMP) is the
501(c)(3) nonprofit organization that manages Eastern Market on behalf of the City of Detroit. Its
vision is to create the most inclusive, resilient, and robust regional food hub in the United States.
EMP works to continue Eastern Market's tradition of nourishing a healthier, wealthier, and
happier Detroit since 1891 — from food to art and commerce to culture. EMP supports food
access, food entrepreneurship, and nutrition education throughout southeast Michigan.
For more information: 313.833.9300 • easternmarket.org • Facebook • Instagram • Twitter
The post MURALS IN THE MARKET Returns to Eastern Market appeared first on PLAYGROUND DETROIT.