"Sit Down Somewhere" Sydney G James Solo Exhibition to Honor Black Women
Sydney G James has known she was an artist since she was three years old.
 "To me, Art is life. Life wouldn't exist without it. I honestly can't imagine my life any other way." 
The Detroit-bred and based visual artist and muralist earned her BFA at the College for Creative Studies and began her career as an Art Director in advertising. She then moved to Los Angeles in 2004, working as an artist in the film industry and earned her MFA in secondary education.
After relocating back to her hometown in 2011, Sydney has become a leading creative voice in Southeast Michigan. She has been recognized as a 2017 Kresge Fellow for excellence in her practice that explores themes of the racial and gender positioning of the black woman in America as "last" or "least among others" in society, the central theme in her work.
Sit Down Somewhere, James' upcoming debut solo exhibition, opens to the public on October 12th from 6-9pm featuring her most recent series of drawings and paintings as a call to action for black women to reclaim their thrones. Her portraits of female muses allow each of their own personal inspirational figures or influencers to share space on the canvas as a unified composition.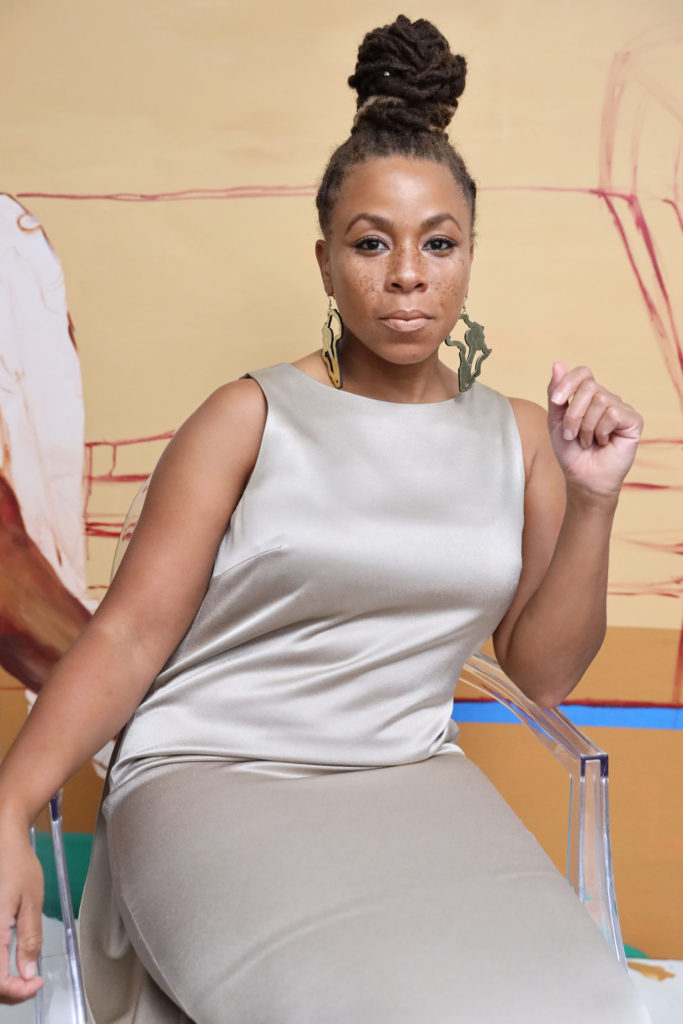 Each of the silhouetted figures share the story behind the powerful black women represented to honor to those who have come before them. 
"Whenever our mothers, mentors, and guides wanted to share wisdoms- they made us – literally- take a seat in order to share an err of caution, or offerings of life lessons, provide encouragement to move forward or, to stop and think. Often, these women had to 'stand up' so that others would have the ability to 'sit down somewhere'."
As the result of lack of social justice specifically in regards to black women in America, her work is an on-going focus of black female subjects. In 2015, she birthed a body of work entitled Appropriated Not Appreciated, as an ongoing series of artistic expressions ranging from drawings, paintings, and social experiments to massive murals painted around the world highlighting fellow black women. The evolution of her subject matter from Appropriated Not Appreciated has since transitioned to a point of Reclamation. 
What concept or theme and medium – as a painter or muralist- are you most interested in currently? 
My murals maintain the same overlying theme as my studio work- I paint black women as beautifully as I can whenever and wherever I can. Highlighting us is my why. Black women are systematically the most oppressed people in this country. I like to counter that with my imagery.
What drew you to figurative painting or portraits that is most of interest to you?
The figure is appealing to me because it's so complex and abstract its own way. There are many expressive things I can communicate with even a simple portrait. The biggest challenge is to make the person I'm capturing actually "feel" like the person I'm depicting. It's easy to make someone look like a photo. It's challenging to pull through personalities and emotions. 
How does the process begin to create from initial concept to execution? 
My concepts usually come to me as day dreams. I have an overactive brain and sometimes it quiets down enough for me to hone in on a good idea. 
What's the main difference between your public artwork and paintings or drawings to you?
The only real differences between my murals and my fine art are the surface textures, and me painting in the elements verus in my studio and the audiences.
Art found inside of a gallery has intentional viewers, and public art has a wider audience because it is experienced typically more as un-intentional viewership when someone encounters in the streets or during a daily route.
Image credit, Bre'Ann White.
What and/or who inspires you? 
My mother is my strongest influence. She has always allowed me to be myself. My former teacher, Marian Stephens, is also a huge influence over my creative practices. Rosa Parks and Mamie Till make my list because they were brave. I experienced them both personally when I was 14 and they're uncut bravery stuck with me.
What are your favorite techniques to capture faces?  
Eyes and lips are my favorite thing to capture. To me, both of them make or break the story I'm trying to tell. 
What about your creative process have you found to be the most successful for you?
The most successful part of my creative practice is my ability to work unbelievably fast. 
What is the concept behind the show you are installing?  
This series is the call to action for black women to "reclaim our thrones." 
Image credit, Bre'Ann White.
Evolution for me is inevitable. I planted my seed with the series and in order for it to properly expand, I had to expand in how I treated and designed the pieces.
What outcomes or results do you hope that this body of work has on people or individuals? 
I hope that black women of all shapes, sizes, and backgrounds along with every other woman that sees it, walks away with their head held high knowing that our elders, ancestors and peers alike is what gives us strength and courage and the comfort that everything will be alright- but sometimes, we have to "sit down" first.
What else are you working on?
I have three murals that I am scheduled to paint this year (Howard University's homecoming, Memphis and possibly Sierra Leone) and a few commissions through the rest of 2019.
Image credit, Bre'Ann White.
What keeps you living in Detroit?
I'm a Detroiter to the bones. I feel like the people in Detroit have more humanity in the culture. The main differences are landscape, traffic and the weather. I prefer four seasons; I just hate driving in the snow. 
How does Detroit have any influence on your work or subject approach?  
Detroit's influence on my work is simply how unapologetically black I keep my subjects. This is definitely a proudly black city. We strut so proudly here, that we take the strut with us wherever we go. My style is gritty and beautiful just like the landscape here.
"I am Detroit." 
What would someone be surprised to find out about you?
I think someone would be surprised to know that I am left handed but I can't control a spray can well with my left so I spray my right. I can control a can with my right as if I was guided my brush but can't do it with a brush. It's kind of nuts how complex being ambidextrous can be.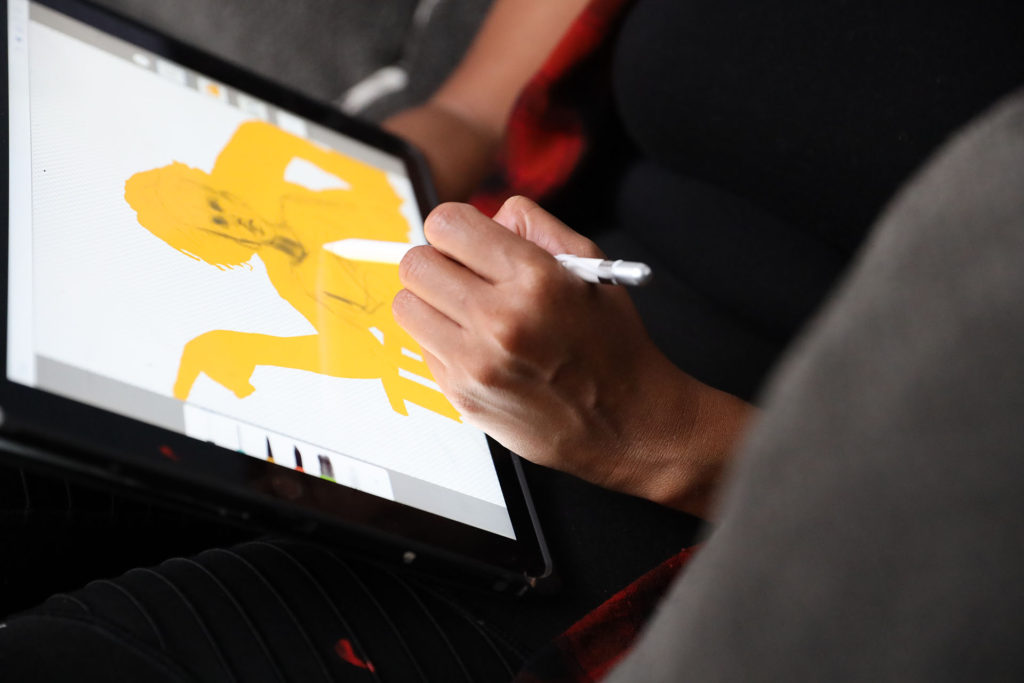 Her portraits and murals seek to reposition this narrative of the black woman's visibility and importance bringing them to the forefront of conversation. Influenced by the artists Barkley L. Hendricks, Hubert Massey, Jenny Saville and the Afri-COBRA collective,  Sydney's art expands figurative painting with bold brushwork, colors and imagery.
James has exhibited her artwork at MOCAD, Charles H. Wright Museum, Inner State Gallery, PLAYGROUND DETROIT, Collective Detroit Gallery, Detroit Artist Market, Red Bull House of Art, and Janice Charach gallery.
She created public murals throughout 2015-2018 with Murals in the Market (recognized by Smithsonian Magazine as one of the world's best), New Orleans, Atlanta, Los Angeles, Pow Wow Hawaii, Pow Wow Long Beach, Pow Wow Worcester, and Accra, Ghana.  
The post "Sit Down Somewhere" Sydney G James Solo Exhibition to Honor Black Women appeared first on PLAYGROUND DETROIT.