Black Lives Matter
In this time of global crisis, PLAYGROUND DETROIT stands with the black community.

We want all artists, BIPOC, and the community at large to know that PLAYGROUND DETROIT's exhibitions, events, and initiatives are for them. We advocate for diversity and inclusiveness, and have anti-discrimination and anti-harassment policies on race, ethnicity, sex, age, sexual orientation, ability, and gender identity; and have zero-tolerance for discrimination, racism, harassment, and hate or harmful language.
Our core values as are follows: Community, we cultivate connectivity in the community by providing engaging programming and offering a public gathering space; Integrity, we lead with transparency and honesty and follow ethical standards in our business practices and communications; Accessibility, we provide a space that is welcoming to all community members and accessible across race, gender, class, sexuality and ability; and Relationships, we pride ourselves on forging and maintaining deep relationships with individuals and organizations.

We have donated funds to Detroit Justice Center and Sydney G. James' Malice Green Monument Mural, (Donate HERE). We must pay it forward. Now is the time. As a local organization, it is our responsibility to take our privilege and platform to set up for the community and support we have received over the years back to others. 
Work hard, play hard has always been our unofficial motto, and as a part of the arts community, we recognize there is more work to be done. We will lead with our values so that we may play together in a community which reflects who we are.  

In solidarity,
PLAYGROUND DETROIT
---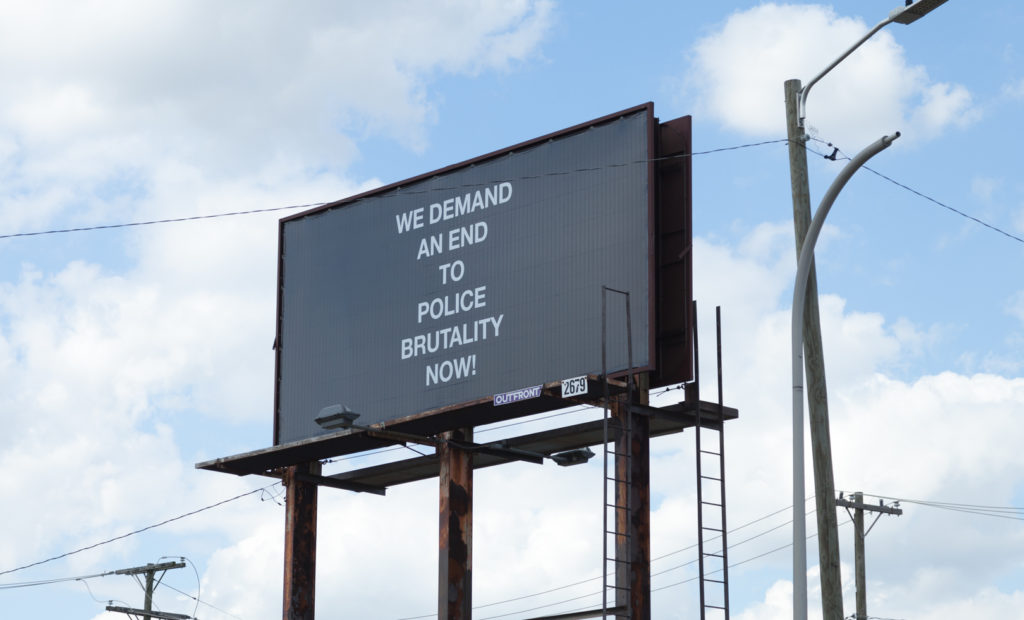 Featured Artwork by Artist Adeshola Makinde, "RELEVANT – WE DEMAND AN END TO POLICE BRUTALITY NOW!," 16 X 20 inches, Silkscreen on Canvas, 2019; seen on public billboard in "Signs of the Time" group exhibition, curated by Ellen Rutt, with PLAYGROUND DETROIT in collaboration with SaveArtSpace in 2019. Connect with Adeshola on Instagram at @adesholamakinde.
In partnership with SaveArtSpace, they are currently fundraising to put these billboards across the country! Donate here.
ARTIST STATEMENT: This is from a series entitled 'RELEVANT'. With this body of work I wanted to go back to the Civil Rights Movement (1954-1968); when African Americans were fighting for constitutional and legal rights that other Americans already had at the time. I particularly referenced protest signs from this era to spark a discussion of why they're still relevant more than 50 years later.
I want to show that far too often we look back at that time as if it was centuries ago, when in fact it's a fight that's ongoing.
---
RESOURCES TO DONATE TO AND SUPPORT
---
The post Black Lives Matter appeared first on PLAYGROUND DETROIT.