Rent Party Detroit Launches to Raise Housing Injustice Funds
Rent Party Detroit is an emergency fund that harnesses the power of neighbors to help neighbors by raising money though social and cultural event. Our mission is to promote housing security in the Detroit area and help neighbors realize their collective power to fight housing injustice.
It pays homage to traditional rent parties that were popularized by black migrants living in Harlem during the Great Migration. Their housing options were limited, overpriced and unsafe. The substandard conditions led to extreme overcrowding and also created a tight-knit community. If a neighbor couldn't make rent, they would through a "rent party" complete with music, dancing and spirits, and a collection jar for the host. They helped each other stay in their homes, despite the external systemic forces working against them.
Rent Party Detroit draws on this rich history and expands the traditional definition of a rent party. We want to encourage everyone to make their event a rent party by donating a portion of the proceeds to an emergency fund to keep Detroit-area families in their homes. A virtual DJ set, a poetry reading, a concert, a cooking class and a networking event could all be rent parties.
This Saturday on the next episode of Silk Motel Sundays– an Instagram live experience from the creative brain of local musician Sara Marie Barron– will be a Rent Party! Join Rent Party Detroit, Sara, and Stef Chura on Sara's Instagram (@saramarie.barron) on Sunday, May 31st at 7pm. Have some fun, hear great live music, throw some love in the feed, and learn how your donation to Rent Party Detroit can help Detroiters stay in their homes.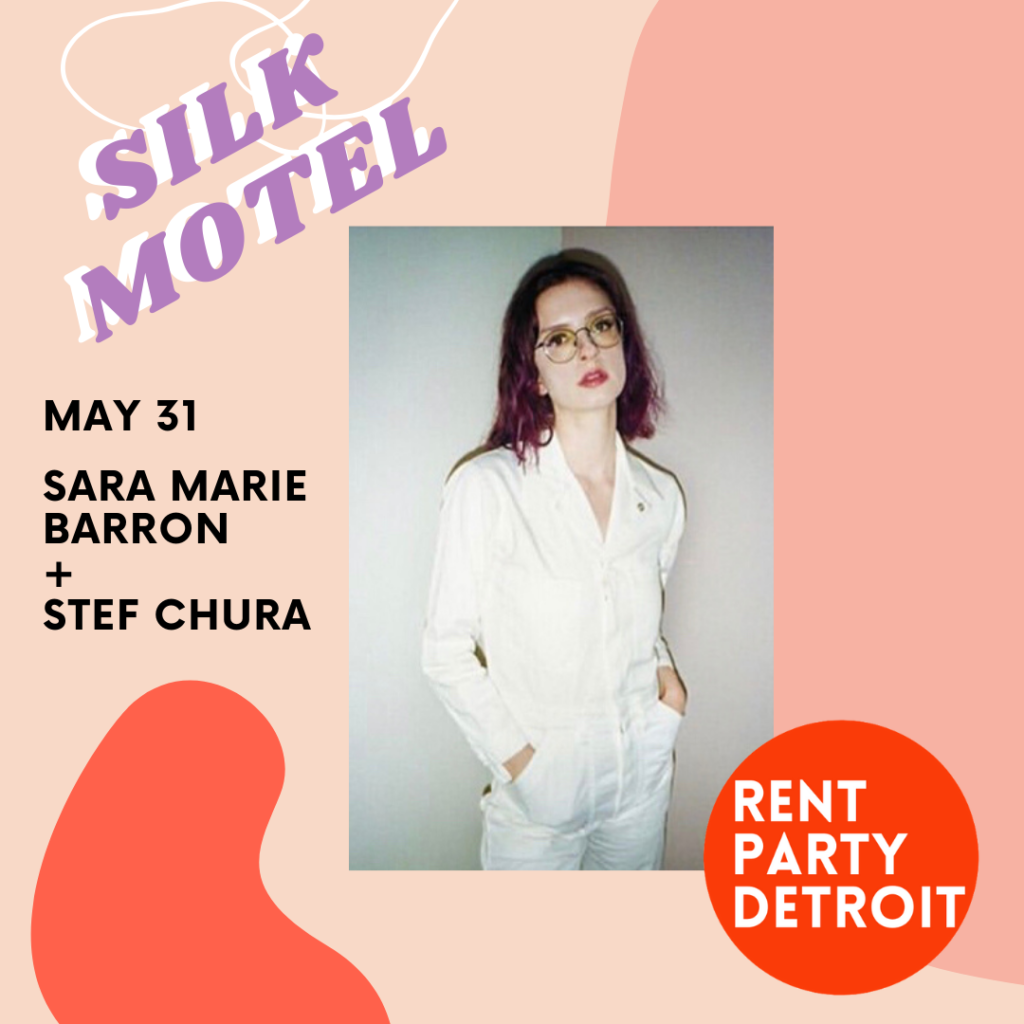 This initiative is to be fiscally sponsored by Allied Media Projects . All donations are tax deductible. All proceeds go directly to help Detroit area families facing eviction and are administered through partner United Community Housing Coalition (UCHC).
UCHC provides direct support to families in need of housing through legal advocacy and housing placement services. UCHC has been helping low-income residents stay in their homes and strengthen their communities, through representation, support, and ownership since 1973. Through this partnership, you can be confident that your donation goes directly to help prevent eviction and homeless in Detroit, Hamtramck and Highland Park.
Wayne County was experiencing an eviction crisis before coronavirus. A new study from U of M Poverty Solutions and the Michigan Poverty Law Project (Libby Benton) shows that Wayne County's eviction rate was an average of 23.5% between 2014 and 2019 (compare that with the eviction rate of Chicago, which was 3.9% for the same period). That means nearly 1 in 4 rental households faced eviction each year. Record unemployment in the wake of COVID:19 will only exacerbate the crisis. Advocates expect a tidal wave of evictions once the moratorium is lifted.
Host a Rent Party
Anyone can host a rent party!
If you or someone you know needs help paying rent, here are some ideas for throwing a rent party: Potluck, BBQ, Backyard concert, Dance party, Card game, Bake sale
STEP 1: choose a location and an activity.
STEP 2: Advertise.
STEP 3: Have fun!
STEP 4: Collect money. Have a donation jar or a fee for entry. Make it clear that the money will go for a good cause.
To make a donation to the fund, go to rentpartydetroit.org/donate. If you have an idea for a rent party, information is available here.
Rent Party Detroit was founded by Linda Jordan, an advocate for people experiencing poverty, former legal aid attorney engaged in eviction and foreclosure prevention in Detroit, musician and writer. Her experience in landlord-tenant court and her connections to the music and art world, inspired her to create this fund. Recognizing that the current eviction system is incredibly unjust and there are very limited resources to help prevent homelessness, she hopes that this fund will increase housing security and educate people on the issues surrounding the rampant housing inequity that plagues our region.
The post Rent Party Detroit Launches to Raise Housing Injustice Funds appeared first on PLAYGROUND DETROIT.