DESIGN CORE DETROIT ANNOUNCES WINNERS OF DESIGN IN THE CITY COMPETITION
As part of Detroit Month of Design 2020, the competition pairs twelve emerging fashion and accessory designers with independent commercial businesses in Detroit. Design Core Detroit has selected the winners of its new Design in the City competition, made possible by a $45,000 grant from Gucci as a part of its new Changemakers Impact Fund. Design Core Detroit was awarded the grant in recognition of their work leveraging Detroit's UNESCO City of Design designation in order to stimulate inclusive economic growth in the city. (Featured image, Excess Baggage, Courtesy of the designer Cristin Richard).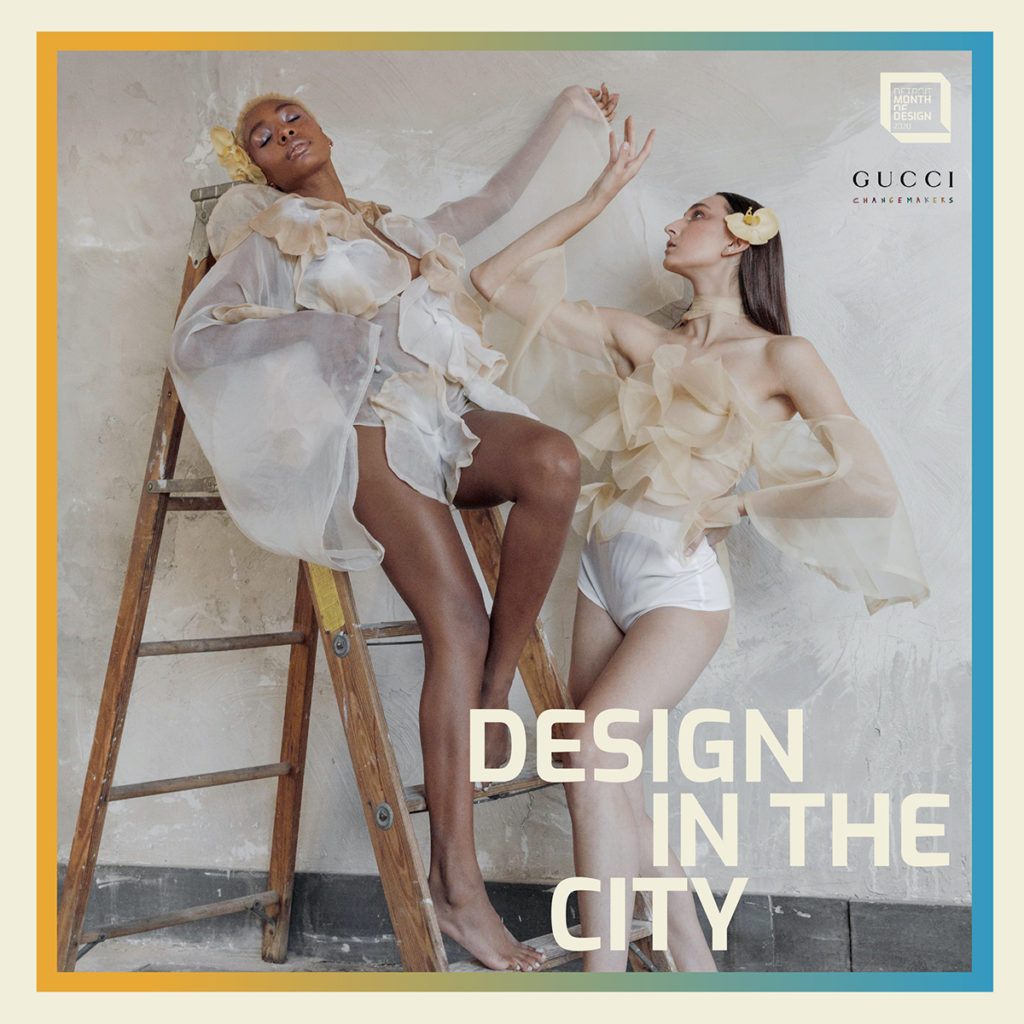 Design in the City installations will be on view September 1-30, 2020 during the 10-year anniversary edition of Detroit Month of Design.
Design in the City is a platform for emerging fashion and accessory designers to showcase and build awareness of their work while receiving support and technical assistance from an industry advisory council made up of local and global leaders in fashion. The program paired twelve fashion and accessories designers–prioritizing women and people of color–with commercial spaces to host installations of their work. These boundary-pushing installations will help activate unexpected spaces across Detroit.
Designers are also offered business and marketing support, mentorship, technical assistance, and distribution opportunities. Technical assistance includes direct access to industry expertise through the advisory council, workshops presented by experts in pricing strategy, market research, and fashion production, and pro-bono financial management services from small business CPA, Dale Grant, principle at Ashton Business Consulting.
Additionally, the program includes a trunk show and pop-up experience, with appropriate safety measures in place, taking place September 12-30 in three locations on Livernois, Detroit's historic Avenue of Fashion.
Up to ten additional designers will sell their merchandise and will receive business support and education from Design Core Detroit. Two additional pop-up experiences will be hosted downtown by Bedrock.
"Detroit is a city that is especially well-equipped for ethical production due to its warehouse space, design and manufacturing talent, tooling, and infrastructure" said Olga Stella, Executive Director of Design Core Detroit. "But in order to thrive, the fashion industry needs diverse voices and talents. Design in the City lifts up Detroit's diverse design talent with the promotion and support needed to help these designers succeed."
WINNERS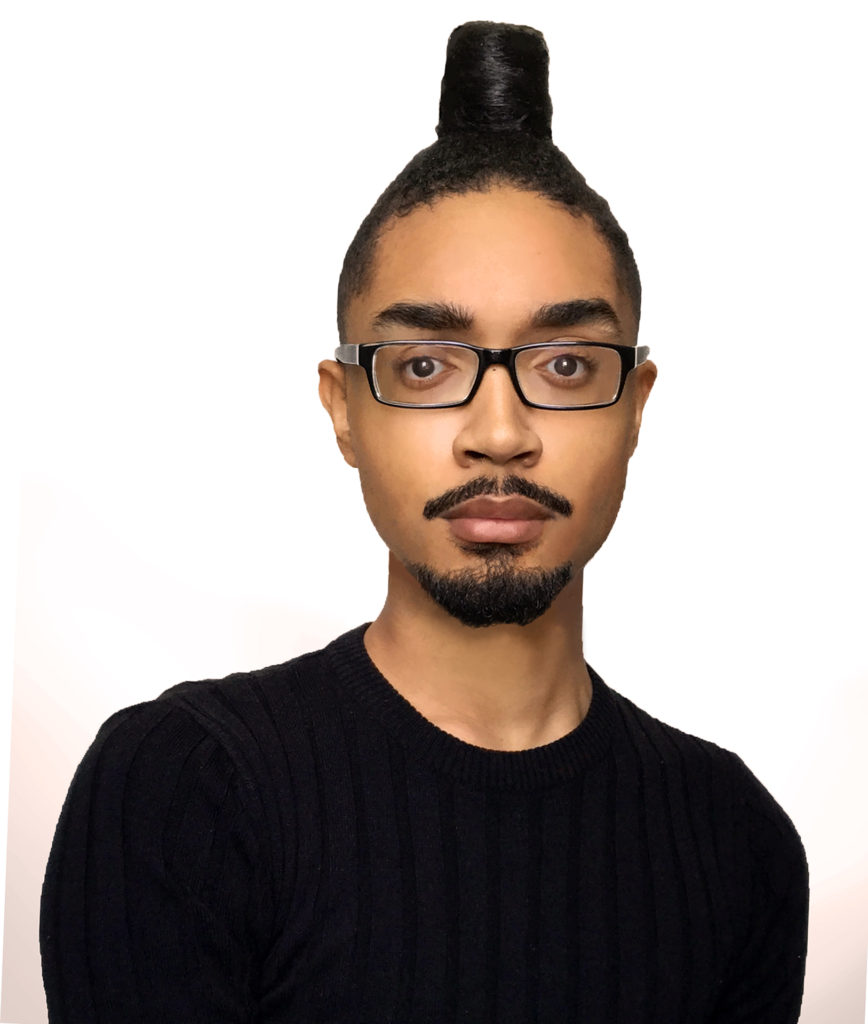 Atelier Detroit 
Designer: Donovan Dewberry
Location: WeWork, 6001 Cass Ave | Detroit, MI 48202
With a BFA in Illustration and a minor in Fiber Textile Design from the College for Creative Studies, Donovan Dewberry designs fashion accessories that live between the worlds of commercial accessibility and high-end couture. Donovan's installation will take viewers on a visual journey of the design process, demonstrating how a fashion designer brings their work to life from illustration, to experimental draping, and to the final product.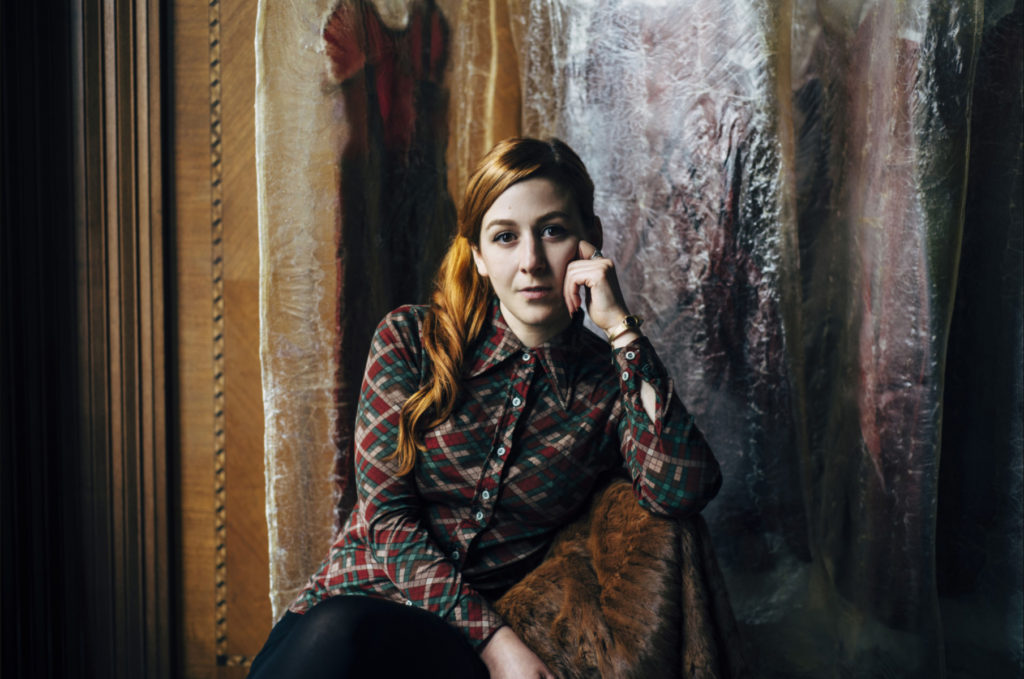 Excess Baggage
Designer: Cristin Richard
Location: Lisa Spindler Studio, 1520 Woodward Ave | Detroit, MI 48226
Cristin Richard is an artist and researcher with an extensive background in exhibitions and experience in the fashion industry. This installation will connect her work with the natural world to question its relationship with the human being and nature itself. A multi-level composition of mirrored pedestals, plexiglass boxes containing soil and grass, topped with translucent skin-like handbags made from sausage casing, provoke self reflection and investigate what a sustainable future really means.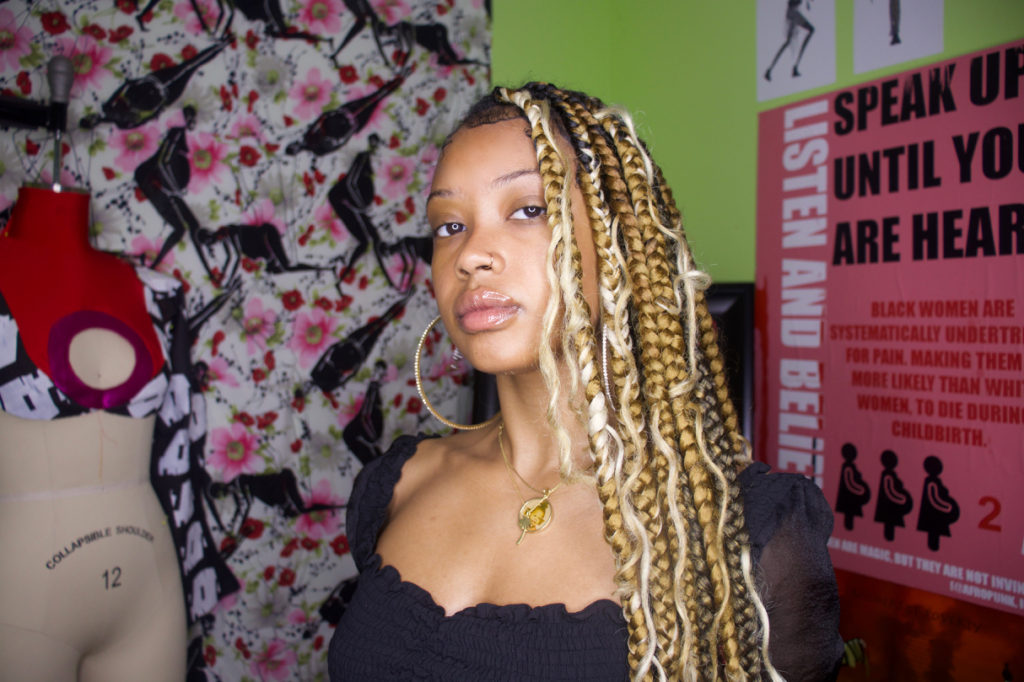 Internal Inferno
Designer: Katherine Johnson
Location: The Kitchen, by Cooking with Que, 6529 Woodward Ave, Suite A | Detroit, MI 48202
Internal Inferno from Fire to Love is an apparel & textile design installation that symbolizes the effects of systemic racism and Black resilience. Through the use of textiles, Katherine will be designing four garments that represent the transformation from fire to love.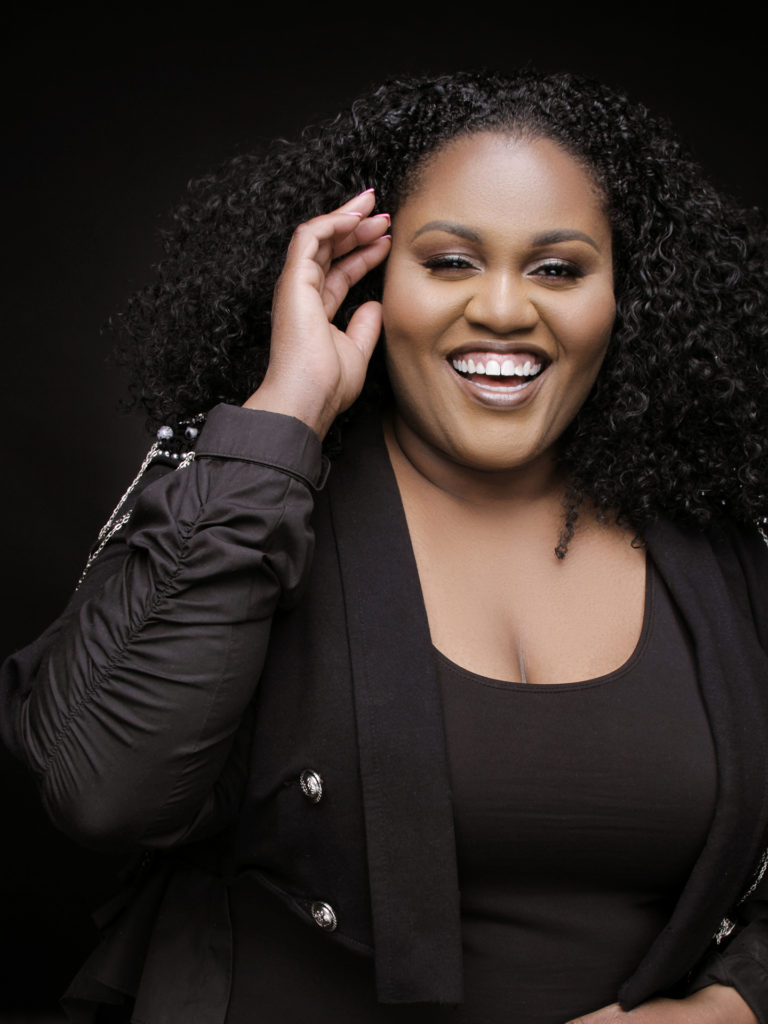 Make Waves
Designer: Kristina Beaty
Location: Playground Detroit, 2845 Gratiot Ave | Detroit, MI 48207
As an African American woman born and raised on the East Side of Detroit, Kristina has absorbed the culture of the city since birth and gravitated towards the art of hair sculpting in high school. Experience this installation where she uses hair as a medium to create fine art. Kristina has expanded her creativity to exist beyond a head-form onto canvas and three dimensional sculptures. She creates intrinsic shapes and breathtaking textures using the art of hair sculpting.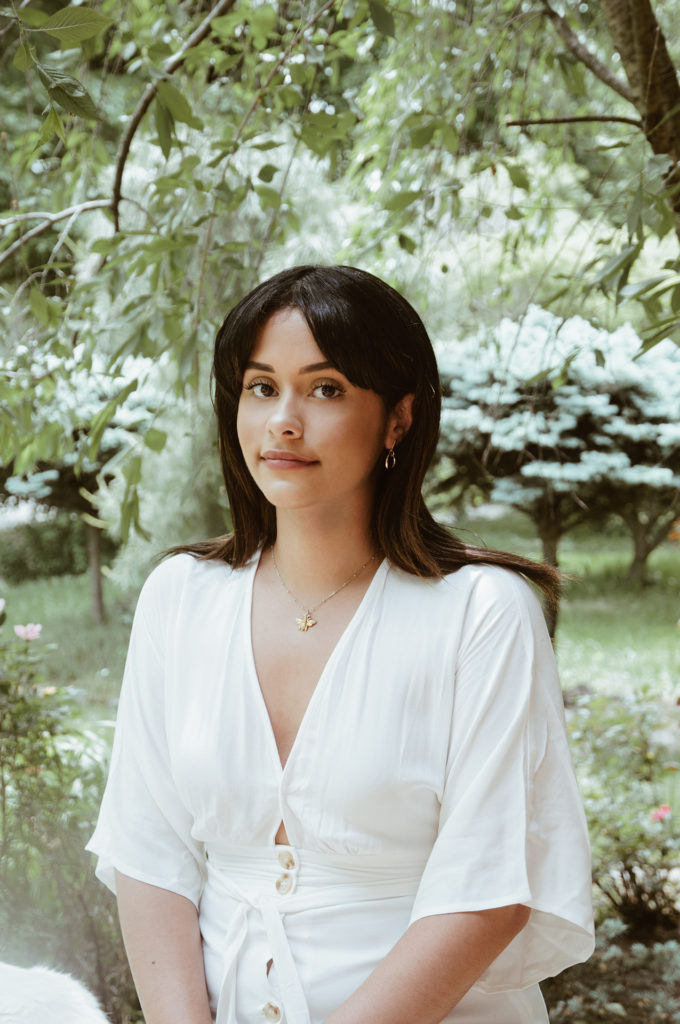 Softly Away
Designer: Nabeela Najjar
Location: Detroit Center for Design + Technology, 4219 Woodward Ave | Detroit, MI 48201
As a graduate from the College for Creative Studies with a BFA in Fibers and Textiles, Nabeela is a costume and fashion designer inspired by dreams and nature. Nabeela will work with garments and florals to transform a space into something ethereal and unexpected.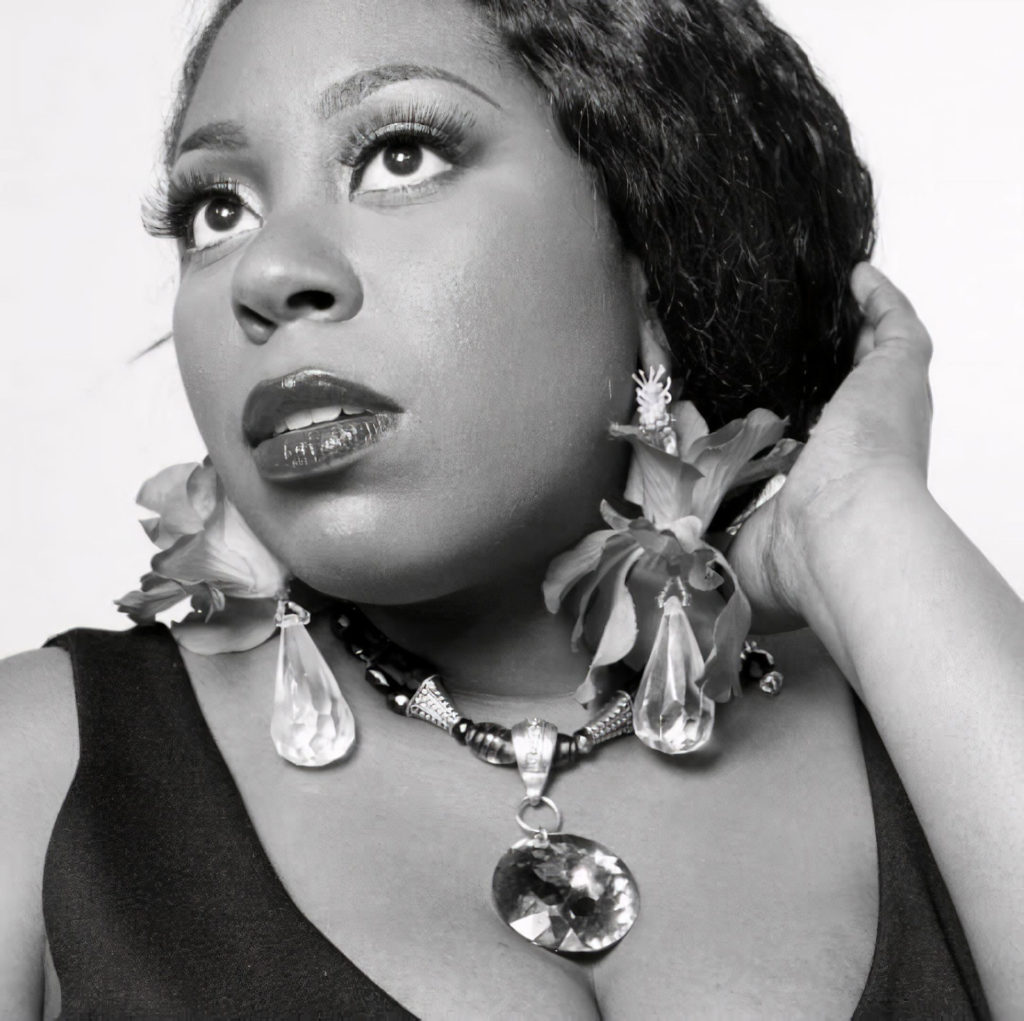 We Exist
Designer: Nneka Jackson
Location: Coup D'état, 3044 W Grand Blvd, Suite L-460 | Detroit, MI 48202
As part of Detroit's art and fashion community over 10 years, Nneka Jackson specializes in creating body adornments that inspire. Nneka will be designing an #afrofuturism display using wearable art, movement and sound to create different personas of people who look like her in the future.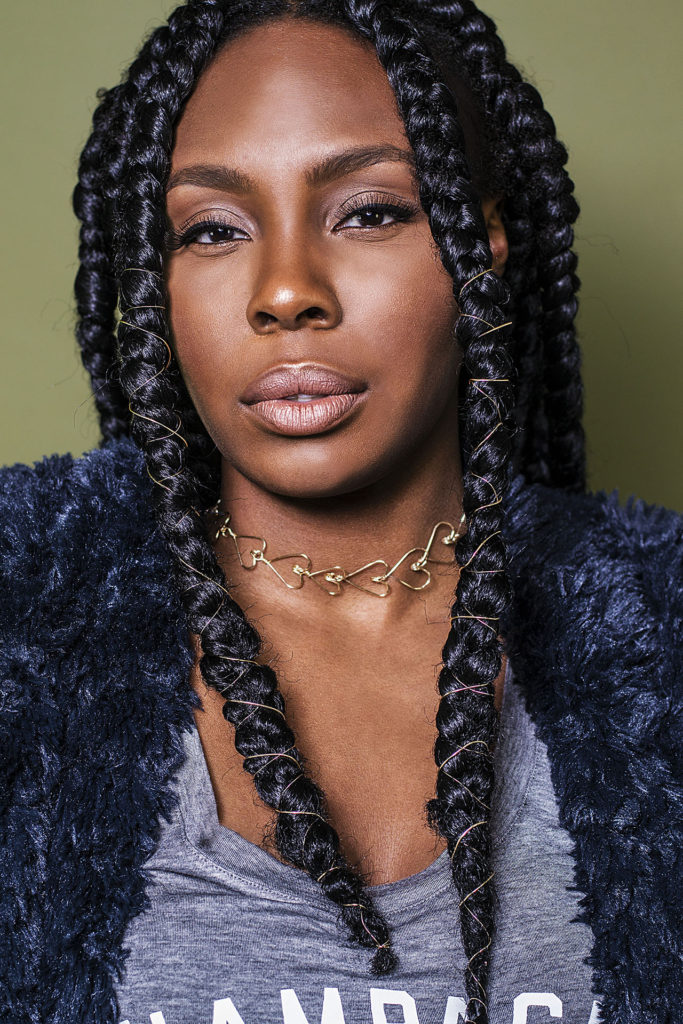 Her Hue
Designer: Trice Clark
Location: Bedrock Location – TBD
Trice Clark is a self-taught artist who was referenced as Detroit's Handy Woman by CBS. Trice has worked for local Detroit music festivals like Afro Future Fest and Kindred and created backdrops for brands like Footlocker and Bumble.
Her Hue is an installation that will promote the celebration of Black hair. Using weaving techniques to create oversized fiber art made of braiding extensions, the installation will mimic different textures to show the inclusiveness of all of our different hair types. Made possible with support from Bedrock.
CCS FAD GRADUATE SHOWCASE
Designer: CCS FAD GRADUATES, College for Creative Studies
Location: MM-O-DD at Collected Detroit Gallery | 2439 4th St, Detroit, MI 48201
College for Creative Studies Fashion Accessories Design Department will be showcasing the work of five recent Fashion Accessories graduates. The displays will be located in a clean gallery setting, putting the graduates' work on center stage. Featured designers include: Amineh Ahmad, Heron Robinson, Mariana Sanchez, Evan Sparrow, Tori Abrahams. Made possible by College for Creative Studies.
INDUSTRY ADVISORY COUNCIL
Aki Choklat, Designer and Chair, CCS Fashion & Accessories
Dre Clemons, Co-Founder of Granston CGB
Loren Hicks, Founder and CEO, Michigan Fashion Week
Antoine Phillips, Vice President of Gucci Brand Culture and Engagement
Tracy Reese, Designer at Hope for Flowers; CFDA
Luke Song, Designer at Moza, Inc.
Bill Thomason, Angel Investor and Author
ABOUT GUCCI CHANGEMAKERS FUND
The Gucci Changemakers Impact Fund is a $5 million grant fund, distributing $1 million per year over the next five years, to support 501(c)(3) non-profit community organizations that are focused on three areas of impact: social justice and equity, art and culture, and education. The 
Changemakers program has selected nonprofit partner organizations in Atlanta, Chicago, Detroit, Houston, Los Angeles, Miami, New Orleans, New York, Philadelphia, San Francisco, Toronto, and Washington, D.C., providing up to $50,000 in grant funds for a one-year funding cycle per selected organization.
ABOUT DESIGN CORE DETROIT
Design Core Detroit champions design-driven businesses and their role in strengthening Detroit's economy. It offers services to strengthen, grow and attract design businesses, increases market demand
The post DESIGN CORE DETROIT ANNOUNCES WINNERS OF ​ DESIGN IN THE CITY COMPETITION appeared first on PLAYGROUND DETROIT.