"Mise en Abyme" Solo Exhibition featuring Rachel Pontious Opens on April 10th
"Mise en Abyme," meaning "placed into the abyss" is Rachel Pontious' debut solo exhibition featuring her latest series of paintings that use the sevens of the Tarot as its starting point. Her use of tarot references both searching and questioning as a way of knowing, and as a result, the paintings represent a personal embodied experience of the cards.
Tarot cards have been used as symbolic tournaments, theological explorations, mathematical systems, and divination tools but aesthetically, they mirror the time and place they came from. Using this historicity to guide her work, she creates new images that expand on the interpretations of specific cards that hold meaning to her. In her accompanying zine, Pontious describes how the paintings take various perspectives on the same idea, holding multiple, even sometimes contradictory, vantage points simultaneously.
Rachel Pontious is a fine artist currently based in Detroit, Michigan. She uses paint to explore nonlinear narratives that speak to the ways we relate to one another, to the objects around us, and to the spaces we inhabit. Pontious does this by weaving abstracted and unnavigable spaces with figures and objects of different planes and perspectives. Her work investigates the Venn diagram of what objects we keep close and the personal mythologies that they create, subtle and exaggerated modes of communication (e.g. body language and theatricality), as well as threshold/transitional architectural spaces and portals.
She has a Master of Fine Arts from Cranbrook Academy of Art (2017) as well as a Bachelor of Fine Arts from School of Visual Arts (2011). She is a recipient of the PLAYGROUND DETROIT 20/20 Emerging Artists Fellowship award in 2020 and in 2019, she received a Vermont Studio Center Fellowship and Residency. Her work has been exhibited at White Brick Gallery, Tessellate Gallery, Roy G Biv Gallery, Cranbrook Academy of Art, and Ann Arbor Art Center.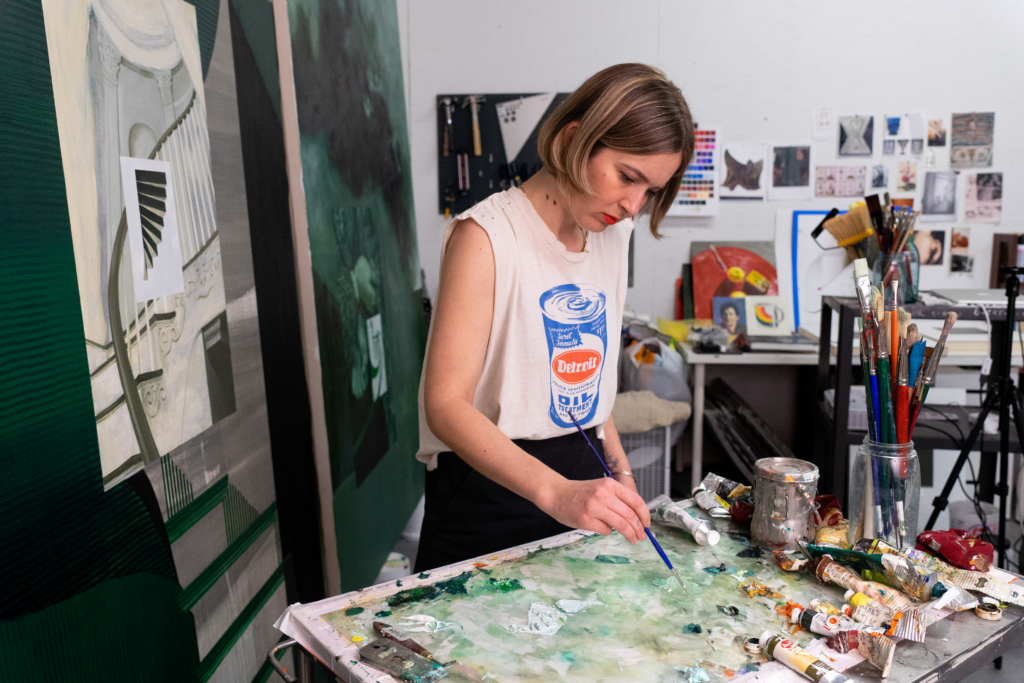 What concept or theme and medium – as a painter are you most interested in currently? 
I'm a cinephile, and I am really interested in the overlap of film and painting. They have had a symbiotic relationship since the advent of moving pictures, both formally and conceptually. Currently I am interested in duration in painting, trying to mess with temporality or "speeds" within the same work. I am really inspired by Chantal Akerman's work, how she works with atypical representations of time and space in film that differ from the way viewers are habitually expected to interact with a movie. Genevieve Pocius (POH-shus) wrote a really good thesis about Akerman's work in relation to temporality and spatiality.
What drew you to working with large painting format?
I like working large and I also like working very small. I think when an artist plays with scale it interrupts what viewers are used to in their everyday lives, the experience is different and maybe it gets them to look a little longer. The large scale format allows me to play with enlarging things or creating more vast scenes, and it also allows me to include tiny details so in order to see the whole image the viewer has to approach from far away and up close. I like to reward the patient viewer, as the artist Colin Chase would say.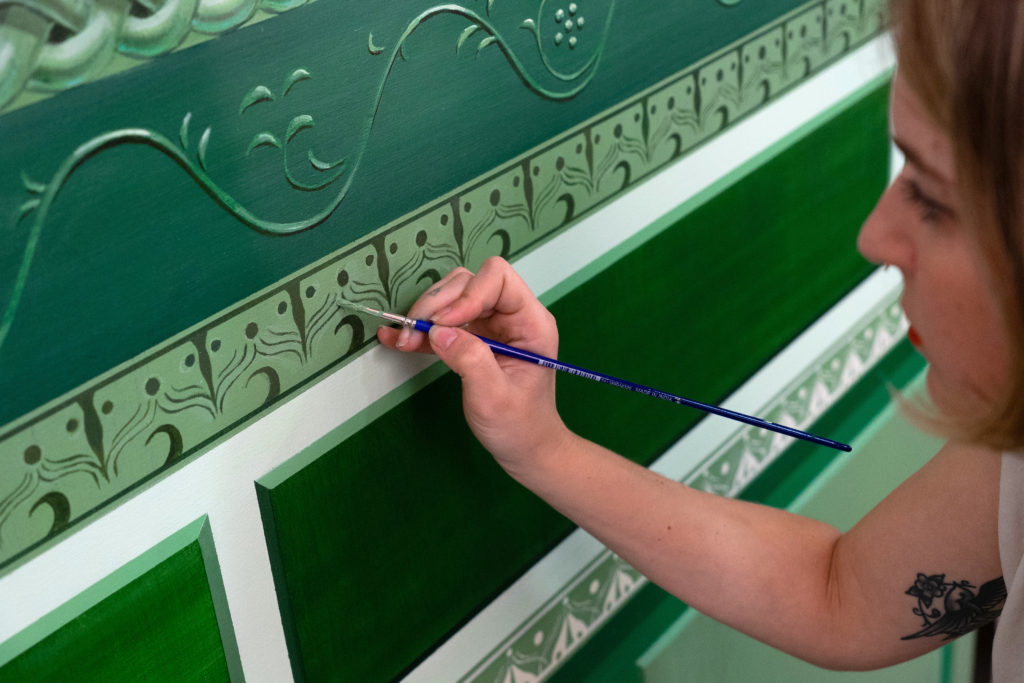 How does the process begin to create from initial concept to execution? 
When I have an idea, I usually do tiny little thumbnail drawings either in my sketchbook or in the Notes app on my phone, that probably no one else would be able to interpret or understand. Simultaneously I am doing a lot of research—visual research, readings, mind maps in my sketchbook, having conversations with people, etc. This also generates visuals and questions and this starts to direct the work.
Once I have a few images I am excited about, I start to refine the material—I do more sketches, find more precise reference material, play around in photoshop, and do painting studies. Then I move to the final version. The final version is still not fully figured out ahead of time—things change and evolve as it goes on, and I let myself stray from my plans based on intuition. 
What is the concept behind the show you are installing?  
This body of work has been simmering in my mind for awhile and changed many times throughout the past year as we all adjusted to new ways of existing, caring, coping etc. Ultimately, though, its culminating form speaks to transition. Even in its naissance, the Sevens of the Tarot formed the work's foundation, pip cards: the Seven of Swords, the Seven of Cups, the Seven of Wands, and the Seven of Pentacles.
In my personal study of Tarot, these cards belie transition, a challenging moment of choice or reflection that may or may not engender change. This felt increasingly prescient as the year wore on. Pip cards/minor arcana are more related to the day-to-day as opposed to the major arcana which speak to more overarching experiences.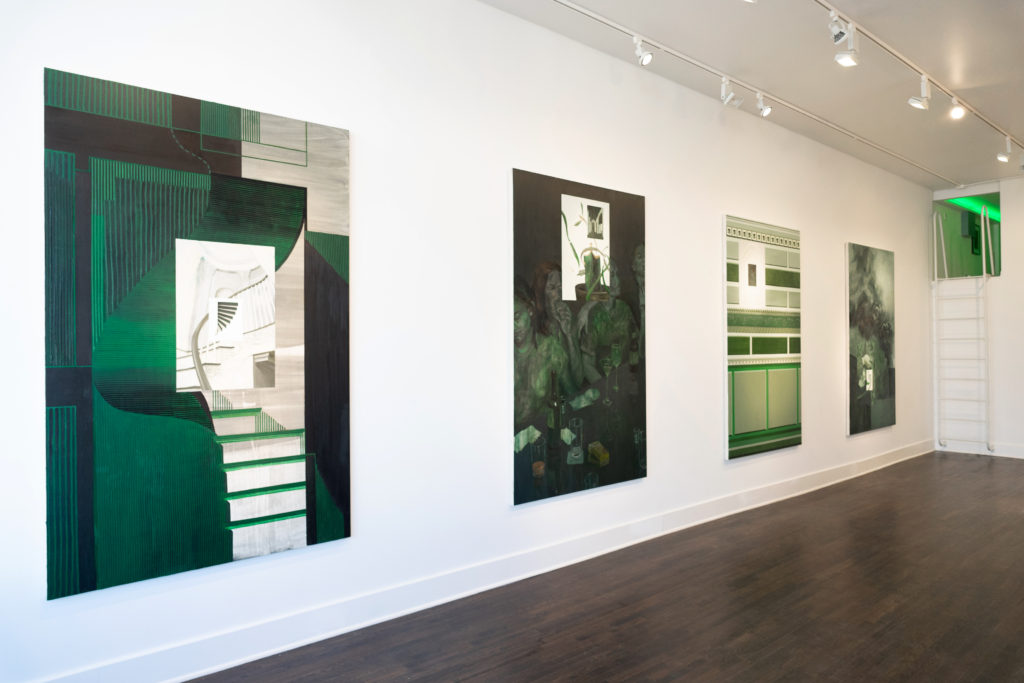 These paintings also use the mise en abyme device, meaning placed into the abyss; this shows up as the frame within a frame (it can also be used in theater: play within a play like Hamlet, literature: story within a story, etc). For me this allows for taking various perspectives on the same idea, multiple, even sometimes contradictory, vantage points, and holds them simultaneously. This idea of a different perspective/vantage point is also how I interpret the use of tarot generally, and this layering also speaks to the multivalent nature of the sevens. This past year has felt like a forcible placement into the abyss. A threshold that promises the future actually leads us to forget what we were looking for; it isn't the future at all. These frames are windows, but they also obfuscate. I have thought a lot about Arundhati Roy's essay about the pandemic as a portal.
What do you hope visitors take away or experience?  
My work is not meant to be an illustration, but my embodied experience of each of these cards during this time. They are a labyrinth of ideas and reference and allusions, and there is no definitive end that the viewer is supposed to "get;" rather I'm inviting you down a rabbit hole of sorts.
What else are you working on or looking forward to in the near future?
I'm really excited about doing the ACRE artist residency this summer, it's been so long since I've been in a community and I am excited to work with other artists. 
"MISE EN ABYME" SOLO EXHIBITION
2845 Gratiot Avenue, Detroit, MI 48207
ON VIEW BY APPOINTMENT
On view through May 15th, Thursday- Saturday, 12-5pm
The post "Mise en Abyme" Solo Exhibition featuring Rachel Pontious Opens on April 10th appeared first on PLAYGROUND DETROIT.