Movement Festival 2022: PLAYGROUND Official After-Party Guide
As you already know, the after parties during Memorial Day Weekend in Detroit are just as important- if not more so- as the festival itself. If you want to see dance music where it was meant to be played, whether it's in dark underground refuges and intricately lit clubs, we've got a list of our favorite picks for you to prepare for Movement Electronic Music Festival! Make sure you act fast, tickets will sell out for most of these and we wouldn't want to miss you on the dance floor. [Above image credit, Texture Detroit]
Thursday, May 26th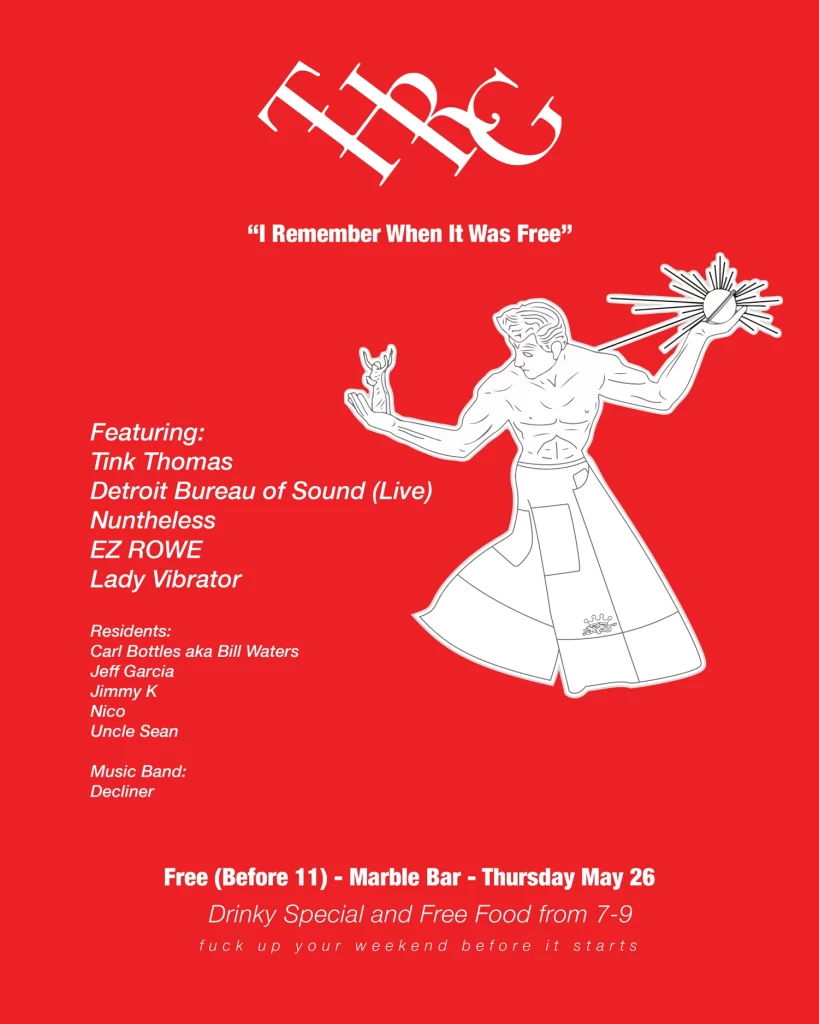 Techno & House Research Group Weekend Kick-Off
Marble Bar // RSVP on RA
THRG has been throwing parties at Marble Bar since before the pandemic, having recently hosted performances by Kush Jones b2b DJ Swisha, Beautiful Swimmers, and Delano Smith b2b Norm Talley to name a few. Their lineup for Thursday's party welcomes FXHE affiliate Think Thomas, DJ sets from some local favorites and THRG residents, plus a live set from Detroit Bureau of Sound as well as a performance by post-punk / techno band Decliner. Free food until it runs out, free entry before 11pm, what more could you ask for?
Blueprint Vol. 5
UFO Factory // Tickets on RA
"Blueprint is a black women led party centered on celebrating women and queer music makers." Their Movement weekend party at UFO Factory will feature music on both the outdoor cloud deck and inside, with incredible local talent including Blackmoonchild and AK, some great out of town guests, and a set by the legendary Whodat. Hopefully Laika Dog Detroit (UFO's resident hot dog joint) stays open late!
Friday, May 27th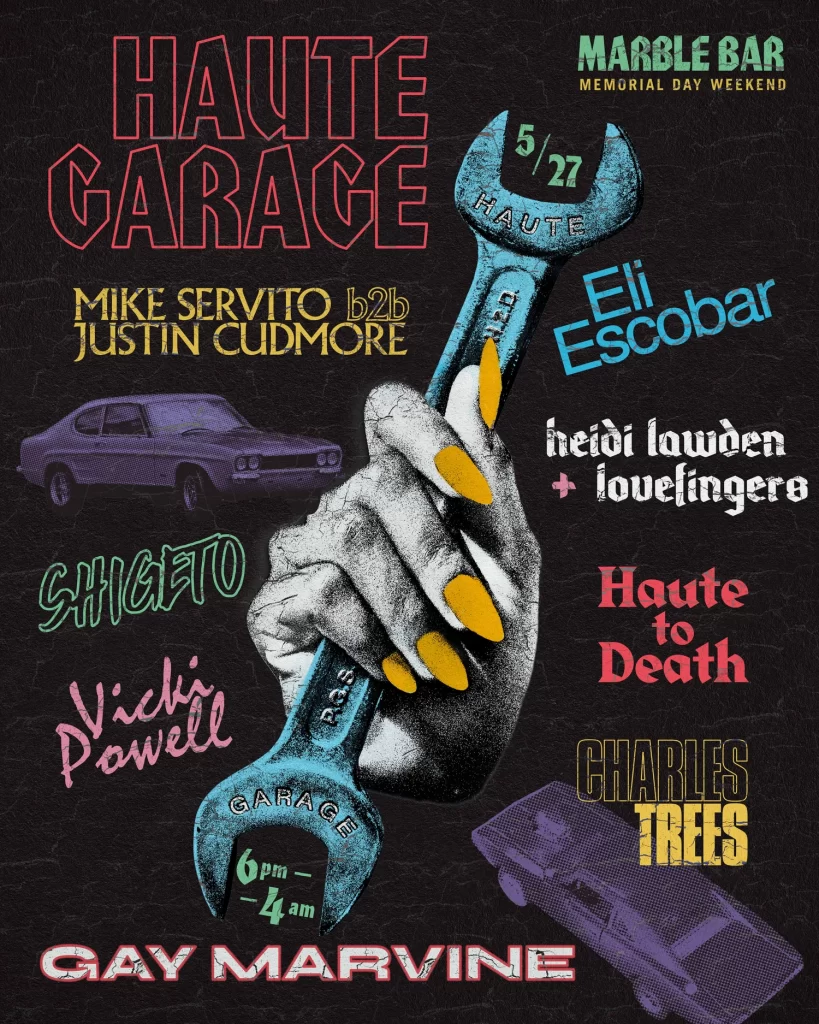 HAUTE GARAGE
Marble Bar // Tickets on RA
Haute to Death and Portage Garage Sounds are bringing you an epic night of music at one of Detroit's best dance music venues! The iconic party-throwers and local standout record label will join forces to host some of Detroit's best, including H2D, Charles Trees, and Shigeto, as well as visiting powerhouses such as Eli Escobar and Mike Servito to name a few. It goes until 4am, which gives you plenty of time before Day 1 of the festival begins on Saturday at 2pm, so warm up your dancing shoes at this great party from a couple of Detroit music staples!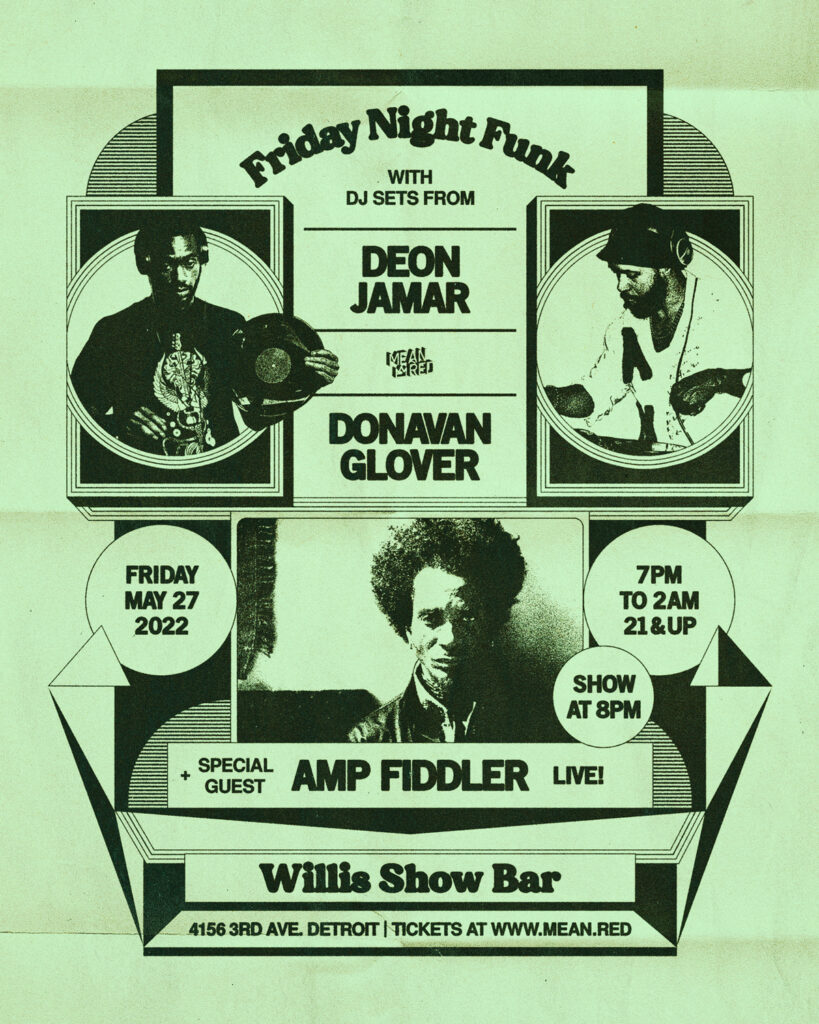 Friday Night Funk: Deon Jamar, Amp Fiddler, Donavan Glover
Willis Show Bar // Tickets on RA
Deon Jamar is known for throwing some of the best parties in the city, and this one is no different. The show will feature sets from Deon himself and the inimitable Donavan Glover, as well as a special live set from the one and only Amp Fiddler at 8pm! Hosted at the intimate and elegant Willis Show Bar, which boasts a prime vintage aesthetic and a Funktion-One sound system, this is a show for the refined of us all that are still looking to get a little loose before the weekend kicks off in full swing.
Saturday, May 28th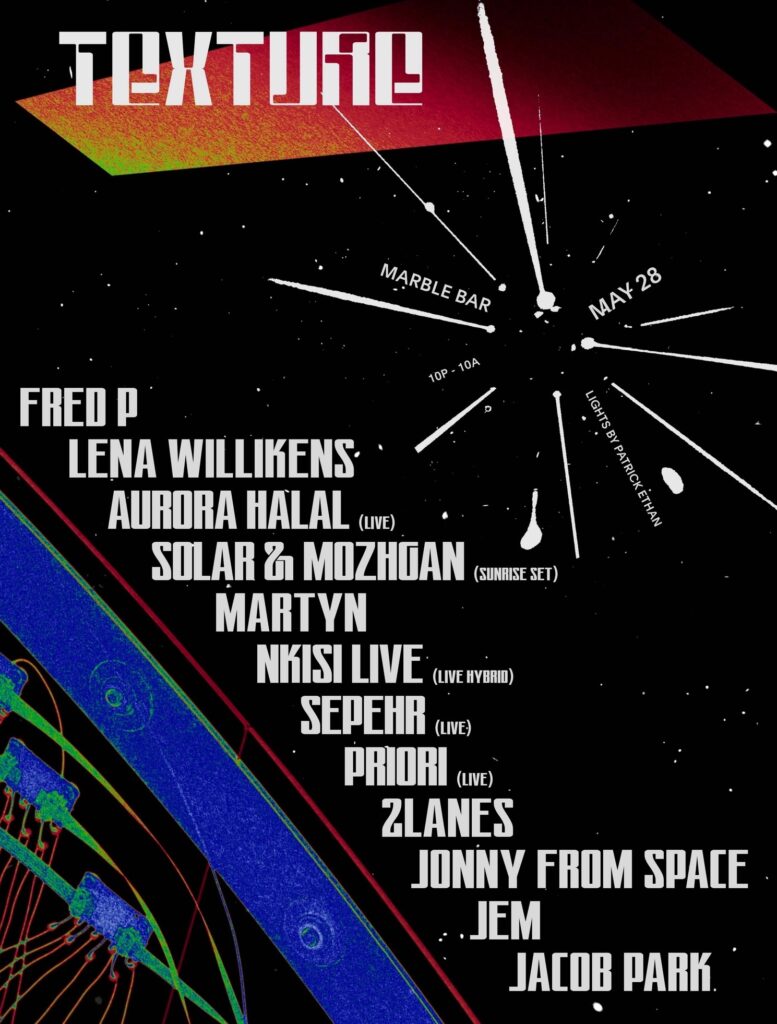 Texture / Memorial Weekend All Nighter
Marble Bar // Tickets on RA
Texture is one of those parties that leaves a distinct impression on you. With a fine-tuned approach to both sonic and visual curation, Texture throws some of the most forward-thinking events this side of the Mississippi, and for this most hallowed weekend they have brought out all the stops. Local features include JEM, a live set from 2Lanes, and Texture's own Jacob Park, as well as contributions from visiting selectors Lena Willikens, Aurora Halal, Jonny from Space and more, all set alongside visuals from light artist Patrick Ethen.
Country Club Disco Warehouse
Russell Industrial Center // Tickets on RA
For Country Club Disco's yearly homage to the Russell Industrial Center, Golf Clap and friends are bringing you some of the hottest names in tech and deep house in collaboration with MeanRed. Florida's Rising star ACRAZE will headline the night, supported by an epic selection of artists both near and far, including Dantiez, King Saaidi, Jubilee, and more. If you've never been to the Russell Industrial Center, this is your chance to check out a piece of Detroit history!
Sunday, May 29th
The Get Down with Theo Parrish (Memorial Weekend)
Spot Lite Detroit // Tickets on RA
If you've ever been to the legendary Music Gallery parties, this may be the closest that you will get for the 2022 season. Theo Parrish has been holding down a monthly Sunday party for a few months now at one of the hottest new dance spots in Detroit, Spot Lite, and for Memorial Day Weekend we can only imagine that this one will be one for the books. Will he invite secret guest DJ's as he has for past Music Gallery events? Will he play a set himself from the evening until the early morning? We will just have to wait and see!
No Way Back 2022
Tangent Gallery // Tickets on RA
No Way Back is one of the most epic parties in Detroit, full stop. Interdimensional Transmissions has been throwing this event for years, and if there is one after party that has been recommended to us more than any other for Movement weekend, it is this one. The way they curate the space and the sound will transport you to another realm, so if you're looking to get weird grooving to some ambitious dance music until the early hours of the morning, Tangent on Sunday is the place to be.
Monday, May 30th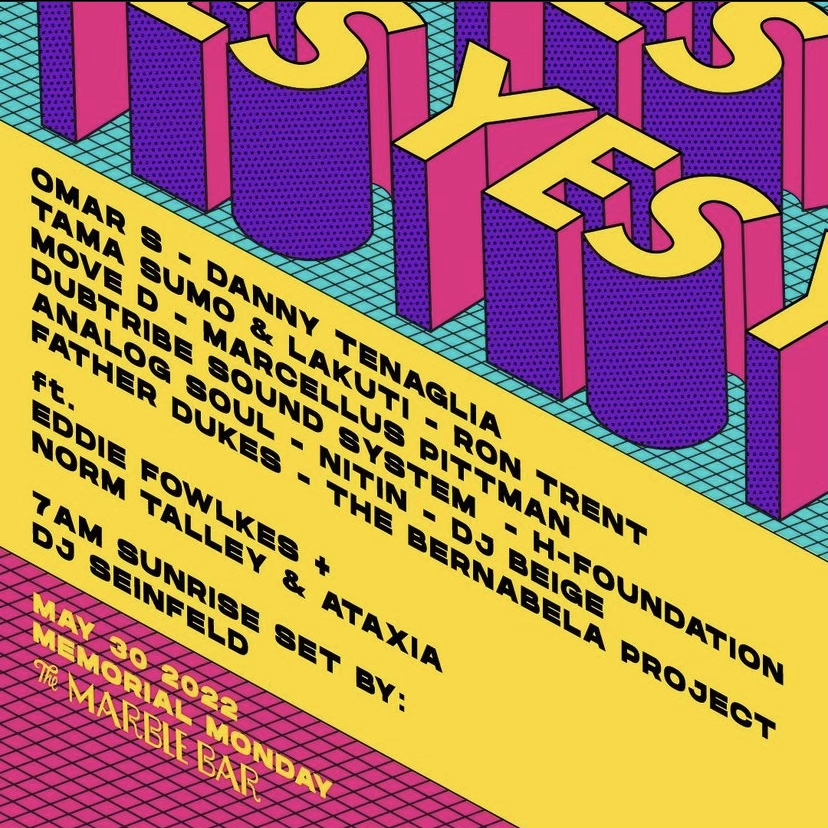 YES – MEMORIAL DAY 2022
Marble Bar // Tickets on RA
Starting at 7am on Monday, YES will initially be only for the most dedicated of the late night / early morning fanatics, but your reward will be a sunrise set by the one and only DJ Seinfeld! Regardless of when you get there, Marble Bar's last party of the weekend will feature sets from some of our local favorites Beige and Father Dukes, as well as heavy-hitters such as the legendary Omar S, Ron Trent, and Marcellus Pittman to name a few.
Movement Detroit Official Closing Party
TV Lounge // Tickets on RA
Paxahau has done a remarkable job curating the festival this year, and the after parties are a natural extension of that. TV mainstay Stacey Pullen will be going b2b with Loco Dice all night long in the Red Room, and on the patio they will present sets from Berlin's Ellen Allien, Overmono (DJ), Clark Warner, and Detroit's own Fusegrade. This party will end the weekend on a high note before we all have to return to reality, but hopefully you all took Tuesday off to recover!
The post Movement Festival 2022: PLAYGROUND Official After-Party Guide appeared first on PLAYGROUND DETROIT.