NEW YEAR EVE GUIDE 2023
For all of the last-minute party people, we are highlighting some of the best events happening in Detroit to ring in the New Year. If you haven't committed to anything yet- or plan to hit up a few spots- tickets are already selling out! Check out our top picks and new spots to welcome in 2023.
Read below for your 2023 Official New Year's Eve Party Guide.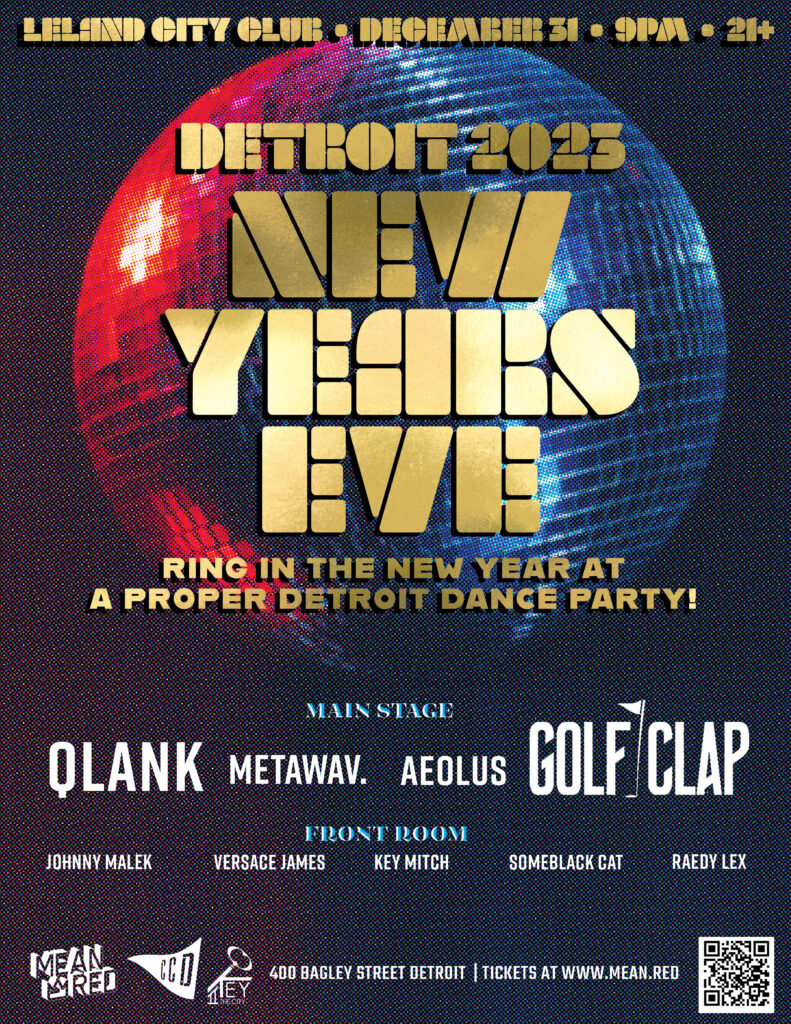 New Year's Eve w/ Golf Clap and friends  at Leland City Club
Two Rooms of DJ Lineups– Going till 4AM! 
Main Room: Golf Clap • Qlank! • Metawav. • Aeolus
Front Room:  Johnny Malek • Versave James • Key Mitch • Some Black Cat • Ready Lex 
Rave in the New Year with a true Detroit experience at one of the city's most unique and legendary music venues! MeanRed is bringing Golf Clap back from California for a proper homecoming show accompanied by an impressive lineup of local talent playing house, techno, and beyond all night long. Housed within the historic Detroit Leland Hotel, Leland City Club boasts a brand new massive sound system with two rooms of music for your dancing pleasure.
Around each corner of the labyrinth-like venue are surprises perfect for exploring your deepest desires as we bask in the hedonistic glory of another year past and an exciting one to come. Get there early to see some of the best up-and-coming DJs in the city and stay late for this ideal after-party destination. Leland City Club is the place to celebrate with your friends and lovers when the ball drops on Saturday, December 31st!
An Interdimensional New Years at Marble Bar
When dimensions collide, and the cycle renews, the portal opens and it becomes time to celebrate the flux with An Interdimensional New Years. Step into the future with us as we immerse ourselves in sound and the infinite dimensions of Amber Gillen's wormholes of fabric and plastic, as we transform the space and ourselves in this sonic rite. The music chosen moves beyond boundaries into deeper moods and juxtapositions, everyone is a visionary at their sound, and the individuality and excellence just continues to add up to mental freedom. The theme is moving beyond boundaries and celebrating everyone's uniqueness.
Who better to honor the Interdimensional New Years than Intergalactic Gary? Headlining Stage Y, he offers a galactic escape through a never ending sea of unpredictable grooves. This is a room of full and deep immersion in tone and groove, with sets from SF's Mozghan & Solar, Honcho's Clark Price, and Detroit legend Scott Zacharias. Multiple sets from multiple minds that offer the finest exploration of deep psychedelic grooves possible on this planet.
Stage X explores the inner mind as experienced through a powerful system, with sonic slayers of monolithic slabs of sound liberating you through their heavy vibrations. From Berlin (and Chicago) we have the ever futuristic and freaky CCL delivering the goods. From Buffalo we have Mike Parker, a sonic pioneer of his own genre of techno DJing directly after the Ectomorph live set.
Ectomorph will be performing an all new live show with a new modular system focused in a new powerful direction, blending their past and their future, inspired by the groundbreaking show they did this summer at Tresor 31 in Globus. The avatar of the future groove Adab joins us for a heady set to set up the New Years and Rebecca Goldberg brings the vibes she's felt in Iceland to her set on this night of transformation.
Burn it down and start anew at An Interdimensional New Years!
New Year's Eve Gala – Sky's The Limit 2023
Ring in the New Year atop the tallest building in Michigan with unprecedented views of the city skyline!
360 panoramic views of Canada and Detroit from the 72nd Floor of the GM RenCen. Doors Open at 9:00PM featuring Live Music by

Jibs Brown & Jambros & DJ Tom T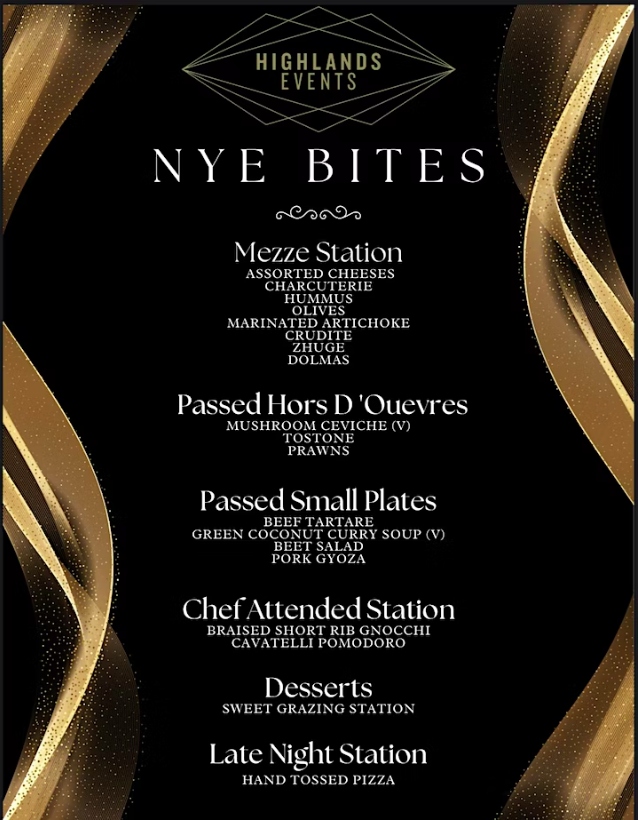 TICKET INCLUDES:

Small Plates from Highland's award winning Chef team including a late night Pizza and Coney Snack
Open Premium Bar 9pm – 10:30pm

Amazing Panoramic Views of Detroit and Canada
Parking included in Beaubien Place Garage for the event
Coat Check Included at the venue.

Champagne Toast at Midnight Included

VIP accommodations available for groups of 6 or more ext 313-789-2252
Black Tie Attire Recommended, but Not Required.
CHAMPAGNE SUPERNOVA: A BIG PINK NYE CELEBRATION
Tickets are on sale now for Big Pink's NYE celebration featuring sounds from:
Sky Jetta @skyjetta
Donavan Glover @donavanglover
Nuntheless @nuntheless 
Munch Music @munchmusic 

(Big Pink's very own)
Tickets are tiered, starting at $20. Grab the early birds before they sell out! There will be a complimentary champagne toast at midnight with every ticket purchased

Let's bring in the new year together on the dance floor!

Design by @munchmusic / Photo (Cover Image) by @sxrreal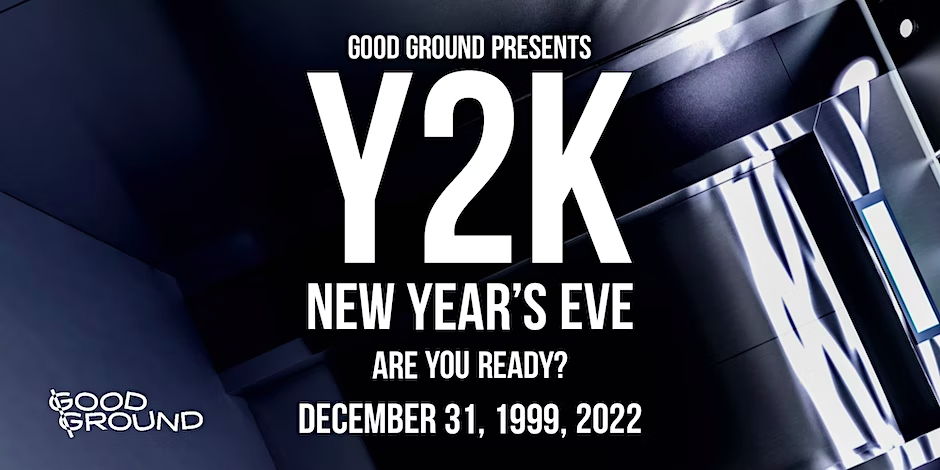 Planet Ant: Y2K New Year's Eve
It is Dec. 31, 1999, and when the clock strikes midnight, the global internet grid will be ravaged by the horrors of the digital menace Y2K. There is nothing left to do but party.
Join GOOD GROUND for an unforgettable night of Turn Of The Millennia Mayhem. Put on your metallic fabrics and step into this TRL music video paradise as we countdown the hours, minutes, and seconds into the new millennium and beyond.
DJs and dancing all night long – lineup announcements coming soon!
Karaoke with Sanford Sounds in Ghost Light Bar
Psychedelic Live Analog Visuals by Creature Station
8p – 4a | $10* | Planet Ant Tickets at the door. **Dress like it's 1999 for FREE entry until 10p!**
Spot Lite (sold out)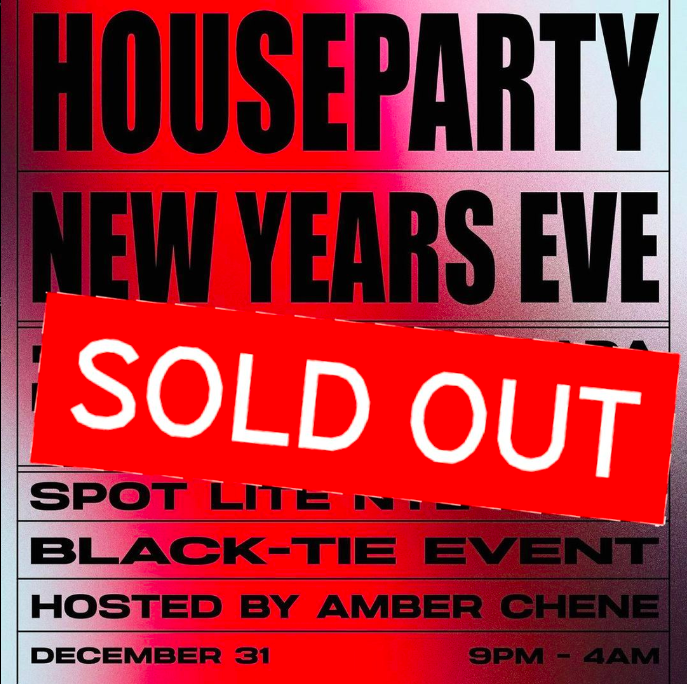 Tickets for @housepartydetroit 2023 NYE Celebration at Spot Lite now SOLD OUT

We will have $25 tickets available to purchase at the door beginning at 1AM!

See you on the dance floor!
Salon (sold out)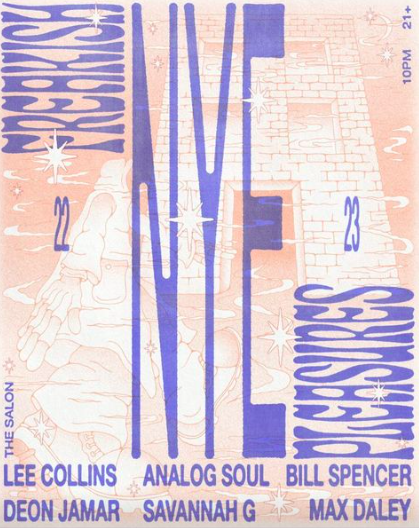 Our farewell to The Salon
Freakish Pleasures NYE featuring…
Lee Collins
Analog Soul
Deon Jamar
Bill Spencer
Savannah G
Max Daley
12/31 / 10pm / 21+
#ticketlinkinbio
Flyer by @hugo____b
The post PLAYGROUND DETROIT NEW YEAR'S EVE GUIDE 2023 appeared first on PLAYGROUND DETROIT.