PLAYGROUND PARTY GUIDE: NEW YEARS EVE 2019
Let's go, 2019.
New Years Eve (falling on a Monday) has a little bit of something for everyone with a range of venues and talent doing what Detoit does best- party. If you haven't already begun to plan for the most anticipated party night of the year, don't stress. We have you covered with the run down on the top parties across the city to plan your night and bring in the new year in style. The hardest part is over, you just need to show up and look good.
NYE w/ Bevlove at Deluxe Fluxx
Located within "The Belt" a popular destination downtown, Deluxx Fluxx is a welcome recent addition to Detroit's nightlife scene. There is no better female performer to bring the New Year looking -and sounding- better than the inimitable Bevlove. Supported by an impressive cast of musicians including Bleek, DAG, DJ Sky Jetta and Lansuh & Mae, this show will no doubt turn up things to another level of hype. Word to the wise and show up early to avoid the line. Featured image credit Mar Mnz.
Freakish Pleasures NYE w/ Claude Young, FIT Siegel, Jan D, & more
To celebrate the One-year Anniversary of The Salon in Southwest Detroit, Freakish Pleasures is hosting another night to remember that will feature the oh-so-talented Claude Young, FIT Siegel, and Jan D, among several other local guests that will keep the vibe right all night long. Extended hours are perfect for those who do not want to stop ringing in the New Year- and why should you? The good ol' saying, "Detroit party don't stop…" is not for nothing.
If you have not found yourself at The Salon, the time is now. Freakish Pleasures brings all the right vibes that give a classic Detroit party a must-see addition to Detroit's nightlife scene, having established itself as a reliable source of thoughtfully-curated evenings over the past year.
NYE with CUPCAkKE at El Club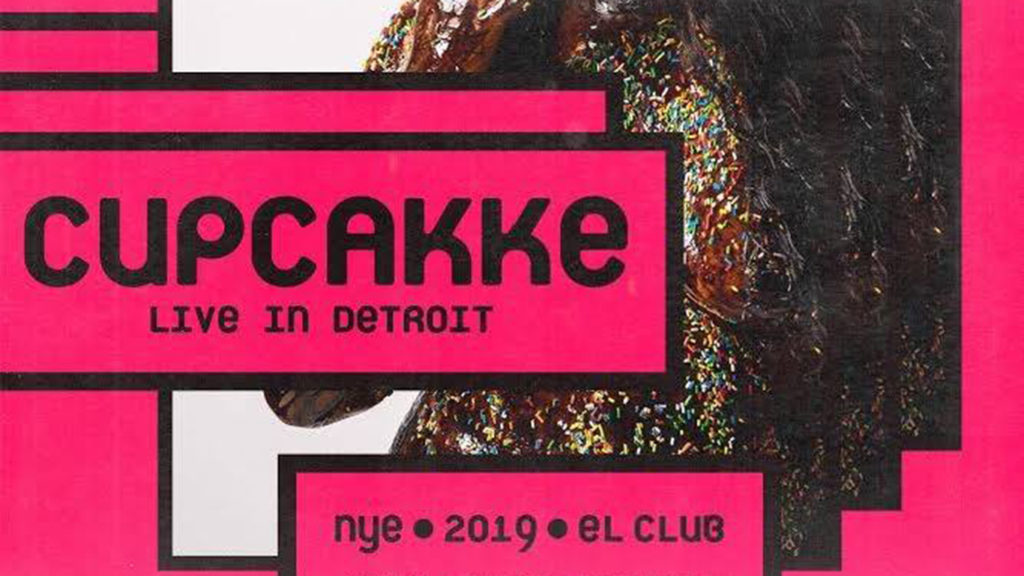 El Club has put together an impressive feat of female talent starring Chicago's CUPCAkKE, along with an impressive sampling of Detroit talent that includes DJ Killa Squid, Tiny Jag, Siena Liggins, and MonaLyse. With such an undeniable selection of feminine energy, manifesting in such varied forms that naturally compliment one another, the show promises to be a deliberately curated experience to bring a new year that will (hopefully) represent another crux in the ascension of a long overdue appreciation for the importance of female representation in music.
Haute to Death: The Surrealist Ball
Combining the hard-earned reputation of Haute to Death with the renewed importance recently renovated Schvitz, this two-day event is expected to match expectations set at last year's magical escape. H2D blends everything you love about their established party flavor with this historic bathhouse to rejuvenate yourself and bring in a fresh take on the new year. Tickets include a day-spa 'after-party' on New Years Day.
If last years ticket sales are any indication, capacity will be sure to max out as fans from various scenes flock to experience the shared appeal that has provided a masquerade experience in a sweaty- and surreal environment.
Count Mack / Craig Brown Band / Prude Boys / Drinkard Sisters at UFO Factory
UFO Factory re-opening in 2018 was no doubt a highlight this year, as one of Corktown's best venues, as fans can once again relax and join familiar faces to ring in the New Year with a unique blend of music styles ranging from rap a la Count Mack, to folk-rock singer-songwriters Drinkard Sisters and Craig Brown Band, that can always be counted on for a good time.
This line-up is as eclectic as we've come to expect from UFO, a venue that has established themselves as a refuge for local music across many styles and inclinations, making this year's celebration yet another expectedly unexpected iteration in the space's rebirth. Hot tip: don't forget the hastag #ufopeople when you post your obligatory NYE bathroom selfie.
The post PLAYGROUND PARTY GUIDE: NEW YEARS EVE 2019 appeared first on PLAYGROUND DETROIT.