Scott Klinker "Structures of Light" Exhibition Opens January 10th at 1301 Broadway
Structures of Light is a solo exhibition by designer and artist Scott Klinker on view to the public through January 2020. The installation features abstract 3D structures that define space with a new lighting technology, LED neon. The experience is like entering the space of a glowing, geometric line drawing.
The exhibition will be on view through January 31st, 2020. The event is co-hosted by Cranbrook Academy of Art and PLAYGROUND DETROIT Detroit. The space is generously sponsored by Bedrock.
Join us for the Artist Reception to the public on January 10th, 2020 from 6-9pm at 1301 Broadway in Downtown Detroit.
As an educator, designer and artist Scott Klinker currently heads the graduate 3D design program at Cranbrook Academy of Art as Designer-in-Residence, where he also received his MFA in 1996. His work there builds on the Cranbrook tradition of modern design – searching for new forms to address our changing needs. In line with Cranbrook's tradition of integrating Design, Art and Craft, he believes that the best forms are not conceived in the mind, but discovered with the hands. His broad approach to form giving is driven by an interest in remixing the categories of industrial design, architecture and sculpture.
After gaining experience as an in-house designer at Sony/Ericsson, and as senior staff at IDEO – Klinker ventured to Japan in 1999 to lead a product design program at the Kanazawa International Design Institute and founded his independent studio, Scott Klinker Design. His practice strikes a balance between industry projects and cultural projects, working with design-driven clients including Herman Miller, Alessi, Steelcase, Landscape Forms, Burton Snowboards, and others. His limited edition works are currently represented by PLAYGROUND DETROIT.
In 2006, Scott was featured in Newsweek's annual 'Design Dozen' selection of best new designers. In 2010, his 'Trellis Bowl' was produced by Alessi, the iconic Italian manufacturer of tableware products. In 2018, Scott's "Corner Bright Light" for Fab.com earned a Silver Award in the lighting category of the International Design Awards. In 2019, he served as juror for the Industrial Design Excellence Awards hosted by the IDSA (Industrial Designers Society of America).
He has also organized and curated exhibitions to promote design in Kanazawa, Chicago, Detroit, New York and Milan. His exhibitions of Cranbrook student work at the International Contemporary Furniture Fair in NYC have won the Best School Award four times since 2001, including an award in 2019. As an active agent in education, culture and commerce, he is building new works, connections and discussions to inspire design culture in America and abroad.
When did you know you were an artist and/or designer? Do you consider yourself one more than the other?
My introduction to art came through music when I was younger. As a somewhat troubled teenager I would escape the horror of being teen-aged through my headphones and a guitar – to enter the 'space' of a song. Now I look for that same kind of space in art and design – a convincing idea, or emotion, or worldview portrayed in form.
This interest in space is both metaphorical and physical and translates easily between art, design, and architecture. I was trained as an industrial designer, but always had an eye on Art and Architecture. Now I intentionally try to remix these categories, but primarily through the lens of 'designer.' 
What has been the most impactful job/experience been for you throughout your career?
I lived in Japan for almost three years in my early thirties, teaching design. Living in a culture so different from my own really opened my mind and my heart in important ways. Being a 'beginner' in an alien place has a way of flattening your ego. That makes room for many new things to enter!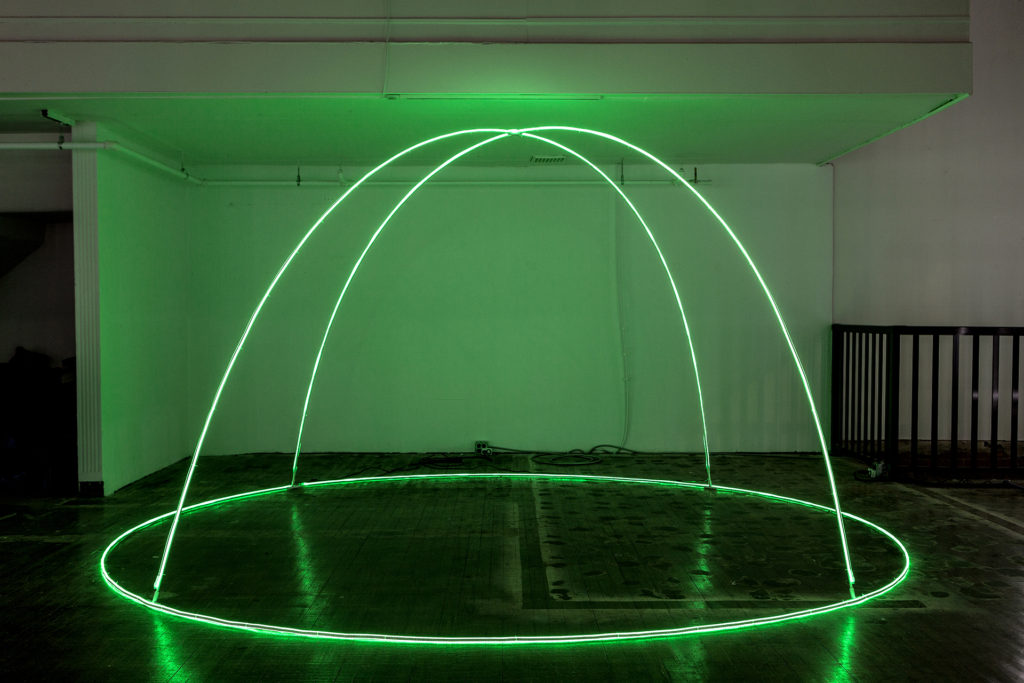 What concept or theme and medium – as a sculptor are you most interested in currently?
The idea that I always return to is space and how it is perceived and conceived. In some ways this may align me more with architecture than a typical artist or designer who might think primarily about objects. While I love objects too, 'space is the place' for me. Why? Space provides a full physical experience that seems more important as life get consumed by more and more computer screens, like the one you are reading on right now.
What drew you to working with light as sculpture and form?  
My first lamp design for mass production was called the 'Corner Bright Light'. It is a tall floor lamp that faces the corner of the room and bounces light off the walls. Already I was thinking about how light defines our perception of space. This work led to more serous inquiry about those connections between light and space.
There's an entire art movement called the 'Light and Space' movement that has served as my primary reference including artist like Dan Flavin and Robert Irwin. There are some technical learning curves to overcome when working with light and that may be the biggest challenge.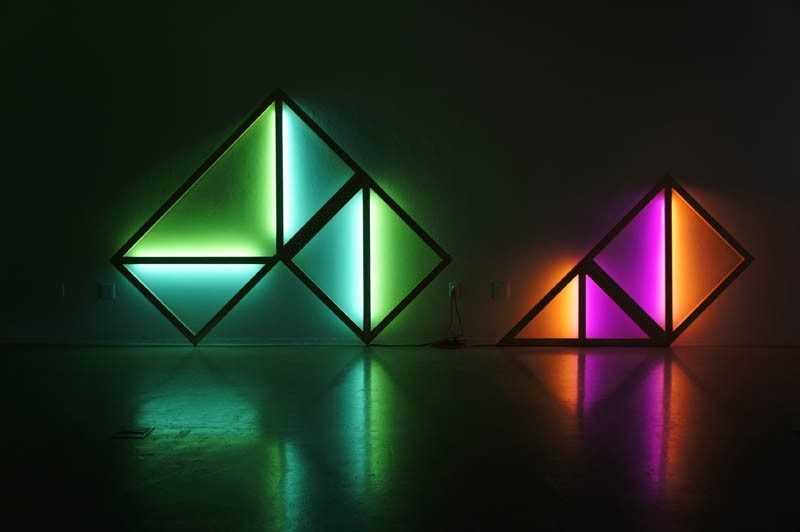 How does the process proceed from initial concept to execution? 
For me, ideas need time to incubate. With this new work I acquired new LED neon and started a series of experiments in the studio to see how it performs. This process took about a year on and off, of trying things or 'sketching.' Eventually, you land on a technique that seems new and you develop it. This process was completely hands-on, with few drawings or computers.
It's more about trying stuff in the physical world.
What are the main differences between your design /furniture work and your more sculptural work, like the Dwellings Series shown in the "Hell Yes!" Exhibition?
I use the terms 'industrial design' and 'fine design' to describe the difference. Industrial design is for mass production, which has some serious pragmatic constraints. Fine Design is about unique, experimental objects that often have more room to be expressive or metaphoric. I try to work in both areas to expand my own thinking and stretch my practice. Both are 'design' but for different contexts which have different expectations. The experiments in light may lead to a 'product' someday, but that's not really the goal. The goal is to test the possibilities of a new material and test our perceptions of light in space.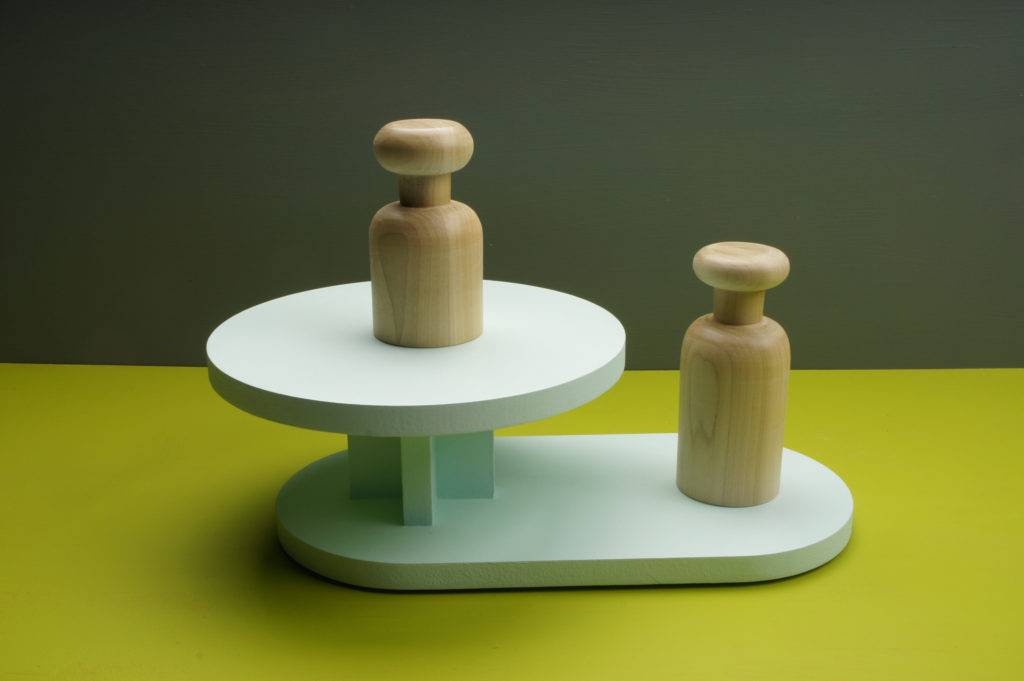 What inspires you?  
Playing with categories inspires me and I especially like artists who remix categories in surprising ways. For example, Andy Warhol was first a graphic artist who remixed that genre into fine art. Artists like David Bowie or Prince re-mixed ideas about pop music, theater, fashion, and gender. My studio has a large portrait of Italian design hero Ettore Sottsass looking over my desk. He taught me to remix ideas of form and function.  
Have the themes of your work evolved over time?
It wasn't until recently that I came to recognize the idea of space as central to my approach. My work circled around this theme for years, but it was the more experimental projects including my drawings, photo constructions, and installations that made it most clear. 
What about your creative process have you found to be the most successful for you?
I especially like to collaborate with industry. I'm at my best when I have the support and resources of a really good partner behind me. I felt that when working with Alessi for example, or in some of my current work with Michigan-based Landscape Forms making outdoor public furniture. Products I designed for them appear in public spaces and become integrated into communities all across North America. It is satisfying to see people using and enjoying my designs. 
What do you hope visitors take away or experience? 
If you think about it, so much of our perception of space comes from seeing how light FADES over distance. This 'gradient shading' effect helps us understand space. But a glowing light source, like neon, has no shading. When it becomes a line in space it flattens out like a 2D drawing. My intent is to confuse our perception of 2D and 3D, so space appears to flatten in a magic way that creates an aesthetic moment.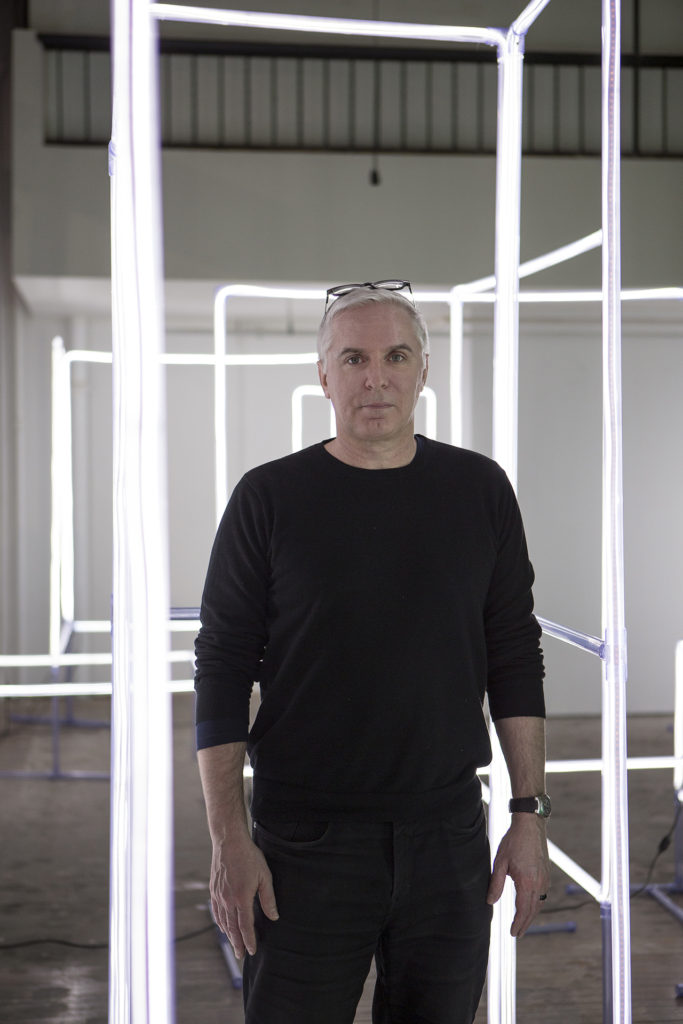 What else are you working on or looking forward to in the near future?
I'm currently immersed in designing a seating system for transit spaces. In a capitalist system obsessed with private property, I love the idea of designing 'public things' for everyone. 
Does teaching and working with students influence your own creative process/practice?  
Absolutely! Cranbrook is a mini utopia and I've been so lucky to work alongside some of the most talented young people in the world. While part of my job is mentoring, I'm also there to facilitate a conversation about design. That conversation continually teaches me too. 
How does your position and experience within Cranbrook have any influence on your work or subject matter/style/approach?  
Cranbrook brings Art, Design, and Craft together in close proximity. This is very influential for designers especially, who rub elbows with artists and craftspeople on a regular basis. It allows us designers to imagine new hybrid ways of working. This context has informed my process in ways that I probably don't even fully understand. 
What would someone be surprised to find out about you?
I can play a pretty mean acoustic version of 'Sympathy for the Devil'. Pulled this one out with my students last week and to my astonishment had the whole studio singing 'HOO-HOO'. I'm also an amateur electronic music composer.  
Structures of Light is on view through January 2020 at 1301 Broadway.
Opening Reception: Friday January 10th, 6 to 9pm
Closing Reception: Friday January 31st, 6 to 9pm
The post Scott Klinker "Structures of Light" Exhibition Opens January 10th at 1301 Broadway appeared first on PLAYGROUND DETROIT.