"Signs of the Time" Public Art Campaign Hits Streets of Detroit for Detroit Art Week 2019
"During the selection process I recognized what makes something an impactful work of art, versus what makes a good billboard. When looking through the 700+ submissions [from the public artist open call], I wanted to choose work that felt like really wanted to see in that ad space. I'm stoked to reclaim billboard space that is typically reserved for consumerism and it feels like a powerful thing to promote peoples voice who are marginalized," explains curator Ellen Rutt.
I worked at an ad agency and at certain points, had to design billboards for things that don't matter at all, so I thought, 'What's the antithesis? What's the most anti-ad thing?' As soon as a brand or a company has a message, that says 'Trans People Are Sacred,' they are co-opting the message, so these artworks coming from the direct source- being the artists- it's unfiltered.
Brooklyn/Detroit-based public art non-profit Saveartspace and ​PLAYGROUND DETROIT​ are pleased to present Sign of the Times​, a cross-media gallery and public art exhibition curated by​ Ellen Rutt​. "They all speak to a very contemporary moment, being political or grappling with aspects of identity which are really relevant to this moment," she explains.
EXHIBITING ARTISTS: Bre'Ann White, Dessislava Terzieva, Elysia Vandenbussche, Erik Henderson, ProjectArt, Adeshola Makinde, Jonah Welch, Viscaya Wagner, and Thomas "Detour" Evans During the week of July 8, SaveArtSpace will launch public art installations for each selected work on billboard ad spaces throughout Detroit, along with Ellen Rutt.
This public art and gallery exhibition is made possible in part by ​Banner Sign Co​. Check out the featured artworks below, and click on the map link to see them life-size throughout the city of Detroit through August 2019.
---
Selected Artists
Elysia Vandenbussche, I AM NOT A BILLBOARD, ink on paper, 24" x 16"
Public Art Location: E. Jefferson Ave & Holcomb St
How do we construct our truths? I AM NOT A BILLBOARD examines when our understandings become imprisonments. This work is a declarative caption to challenge preconceptions and presuppositions. The message is a notion to push the audience to think for themselves and consider what they have been labeling or agreeing with unconsciously. I am interested in investigating the complexities of identity, psychology, paradox, and the use of words and the power they hold over the self.
Elysia (b. 1987) received her BFA from College For Creative Studies, Detroit, MI for Craft (2011). Upon graduating in 2011, Elysia established a private studio and operated a business for seven years. While having a dedication to clay, she investigates across the disciplines of film, photography, linguistics, and installation. Elysia will be pursuing her MFA at the Cranbrook Academy of Art (2021).
Connect with Elysia on Instagram at @___elysia___.
---
Bre'Ann White, Creation Of Her, 2019, 51" x 38.5" in print/framed
Public Art Location: Livernois Ave & Desoto St
Although my biggest inspiration is my city, I want my audience to look at me as a photographer, an artist who transcends her origin and uses her work to draw on the shared connections of humanity. I feel the most complete when I am capturing beauty through people and their body language. While I do not want to be known by the artist who put Detroit on her back, I have always admired the culture of Detroit in its strength and resilience. This same admiration applies to people I work with; people who may not see their full potential due to whatever circumstances may have shaped their experience. My work involves more than just taking a picture, I've become successful in reminding people how beautiful they are and how perfect their imperfections. One of my ongoing goal's is to help my subjects learn to own their flaws and not allow their flaws to outshine them.

I feel that to be dedicated to your craft is to be consumed with all aspects of the process. As I travel for my work, I strive to build connections between audiences through my craft and utilize available resources to contribute to a network of artists around the world. There are so many experiences that I have, and part of my passion is re-creating these emotions for the masses to consume. My identity as a Black woman in today's society pushes me forward in trying to increase my exposure and highlight my work. My work is empowering to myself and my subjects, and I want my audience to feel that same sense of empowerment and more.
Since 2010, Bre'Ann White has curated stunning photographs and branding materials for organizations worldwide. The Detroit-bred fashion and portrait photographer is known for creating and cultivating striking images that draw you into the subject's world. Throughout Bre'Ann's work portfolio, you will find a consistent layer of authenticity and imagination. With confidence in her work and her vision, this transitional phase in Bre'Ann's career is allowing her to showcase her work and explore art show opportunities to connect to a broader audience.
As an artist, I want my work to have a continually positive impact on whatever audience it reaches. During individual shoots and partnerships that I've had over the years, I have built relationships with community leaders and professionals who inspire me to maintain a connection to my roots. When it comes to my community, I want my work to reflect the many faces and stories of people who experience the highs and lows of urban life, the joy of being and supporting Black, and the inspiration from the lens of a woman photographer. By increasing the exposure of my work, I also want to raise the awareness of different perspectives and experiences of those around me. I am aiming to change the global narrative of Black women photographers as a whole and to shift the perception of my city from desolation to renewal.

Additionally, with my current artist collective, I have worked to establish the "Leaders Amongst Leaders" Mentorship program to mentor youth business leaders and expose them to young creative business owners and professionals. In working with "Leaders Amongst Leaders," we are pushing to create a stronger and more knowledgeable network of younger entrepreneurs and professionals for today's business world.
Connect with Bre'Ann on Instagram at @breannwhlgn.
---
Project Art Students at the Detroit Main Branch Library, Moody Sky, Paper Collage, 8.5 x 11 inches, 2019
Public Art Location: Joy Rd & Alpine St
Project Art Students at the Detroit Main branch Library in collaboration with Cyrah Dardas.
Currently, over 4 million elementary youth in the U.S. do not receive access to arts education. ProjectArt, a national non-profit organization, seeks to remedy this by placing artists-in-residence in local libraries to provide free after-school visual arts programs to youth in under-resourced neighborhoods. ProjectArt Detroit currently takes place at several Detroit Public Libraries while holding three art classes a week to over 300 students.
Connect with ProjectArt on Instagram at @projectartusa.
Cyrah Dardas is a Detroit based multimedia artist examining American queer identity, gender based violence, futurism and intersectional ecofeminism.
Dardas' uses personal narrative, and dreams as the basis of her work. Living with PTSD and memory lossas a result of gender based trauma Dardas often relives the past in short, vivid bursts of images. Dardas practices a multi step process of recording these images, sketching them, cutting them out from paper, replicating them, and finally reconfiguring them into pattern. These patterns can be left as paper, or used as a template for a painting.
Dardas' paper installations are made up of hundreds of pieces of cut paper. Highly stylized, and iconic; figures and subject matter are repeated numerous times, recalling imagery of Persian textile design. Through the build up of these objects, Dardas' installations become intricately composed tapestries.
Connect with Cyrah on Instagram at @cyrah_power.
---
Erik Henderson, Maybe a Trash Can #19, 28" x 24"
Public Art Location: Michigan Ave & 23rd St
Erik Henderson is a Detroit based set builder and photographer.
Enjoys Waffle House, absurdist theory, wikipedia, post-modern art, and mismatched socks.
Isn't really sure why Christmas music is played before Thanksgiving.
Connect with Erik on Instagram at @_erikhenderson.
---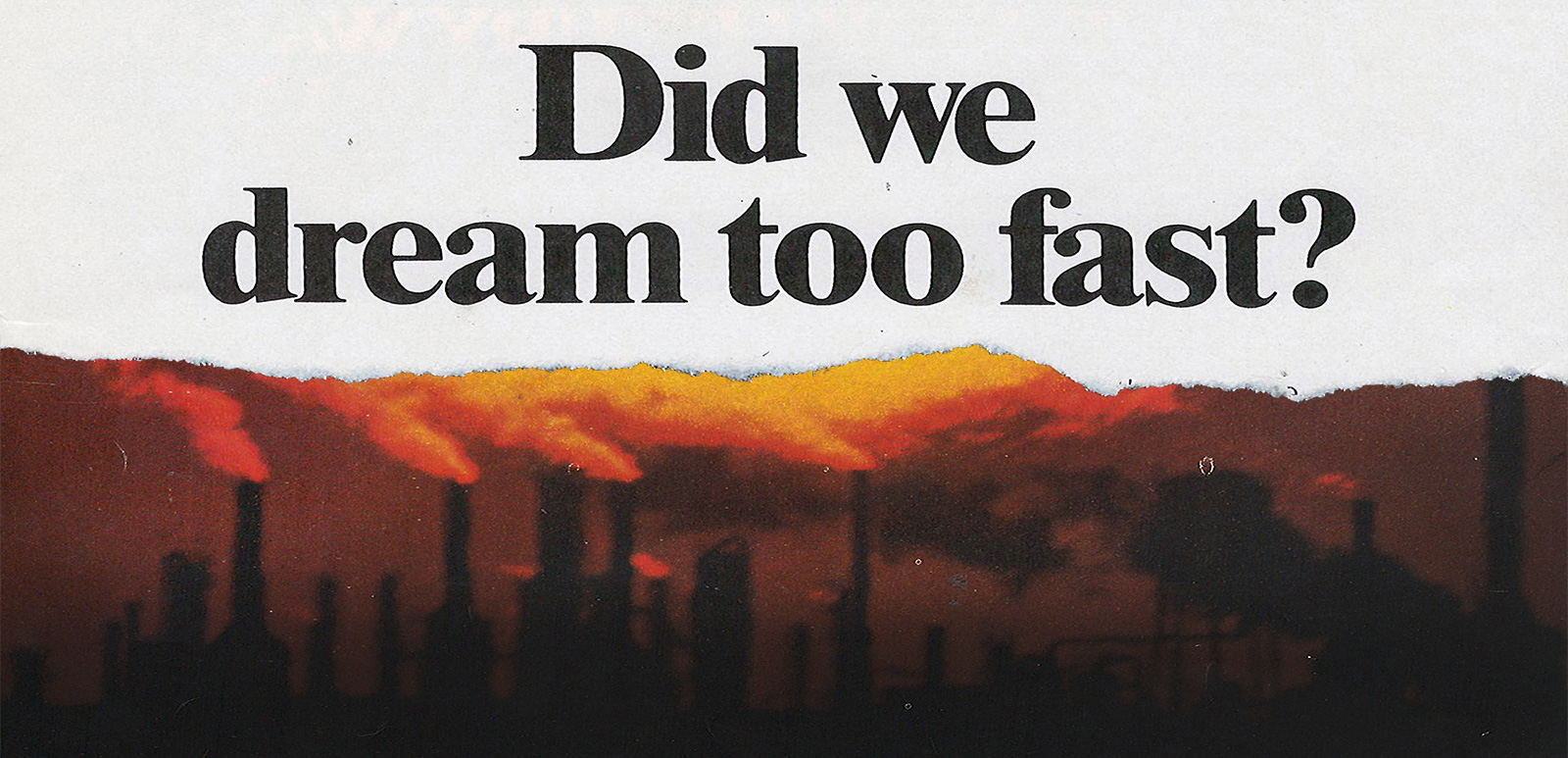 Dessislava Terzieva Crash and Burn, collage, 8×10 inches
Public Art Location: Conner St & Maiden St
I am a self taught, Bulgarian-American artist creating visual narratives to evoke the complexity of influences that shape who we are. My work references origins, memory, time and identity in an ongoing exploration and expression of the human condition in contemporary society.
Dessislava Terzieva is a contemporary artist working in a variety of media, from collage and sculpture, to installation and performance. She was born in Bulgaria, based in Detroit and working worldwide.
In addition to my fine art practice rooted in collage and found object sculpture, I have a sustainable clothing line called *Paid Actor in which I take pre-existing garments and repurpose them to give new life / stop them from ending up in a land fill. I consider them textile collages and wearable sculptures in which fashion is used as a form of communication.
Connect with Dessislava on Instagram at @slavadelic.
---
Adeshola Makinde RELEVANT – WE DEMAND AN END TO POLICE BRUTALITY NOW!, 16 X 20, Silkscreen on Canvas, 2019
Public Art Location: W. Warren Ave & Wesson St
This is from a series entitled 'RELEVANT'. With this body of work I wanted to go back to the Civil Rights Movement (1954-1968); when African Americans were fighting for constitutional and legal rights that other Americans already had at the time. I particularly referenced protest signs from this era to spark a discussion of why they're still relevant more than 50 years later. I want to show that far too often we look back at that time as if it was centuries ago, when in fact it's a fight that's ongoing.
Adeshola Makinde is an artist based in Grand Rapids, Michigan. He was raised in the Chicagoland suburbs. He got his start taking photos at parties, concerts, fashion shows and other cultural events. His work today tends to primarily tackles social issues that affect those that are marginalized and or oppressed.
Connect with Adeshola on Instagram at @adesholamakinde.
---
Jonah Welch Trans People Are Sacred
Public Art Location: E. Seven Mile & Kempa St
The idea that Trans People are Sacred is the foundation of my work as an artist. It finds its roots in many indigenous cultures around the world, as binary gender has always been a tool of colonizers and a form of social control. It describes the notion that someone who lives outside of socially given or coerced ways of being learns something unique about life. Sometimes it is being able to see people as inherently worthwhile regardless of their material circumstances. Or seeing ways that things could be made better, more functional even for those on the margins. Sometimes it is seeing outside of human life altogether, and cultivating growth and self-love in the arms of the natural world, or the spiritual one. This type of knowing makes trans people a crucial part of creating a new world, especially in this time of ecological and humanitarian crisis. Transgender and Gender Non-Conforming People need to be protected, cherished, and celebrated. We need resources and spaces to do our work. We need to be seen, and we need people to take the time to understand us. We are all unique. We are a diverse and strong community. We are never going away – we'll only be more and more here, more alive. It's time for us to take up space. 
Jonah Welch is a 27 year-old transgender and non-binary artist from Wisconsin making abstract work that attempts to place trans people within the tradition of the occult. Using the line drawn by hand, Jonah attempts to make non-binary identity archetypal. They reference mythology, and the history of trans embodiment within hermetic alchemical practices, and depict non-binary embodiment in particular as an expression of a long human lineage. 
Culturally, we have an understanding of the divine feminine and masculine, but what of divine androgyny? It is the paradigm to shift all paradigms, wherein one human is free to expand endlessly.
Jonah's art gestures towards personal empowerment rather than power. It celebrates the sacredness of trans life and the melancholy of experiencing social stigma. It upholds anti-assimilation and fearlessness at the edge of life and death as pathways to freedom.
Connect with Jonah on Instagram at @Jonahwelch or at etsy.com/shop/artfortranspeople.
---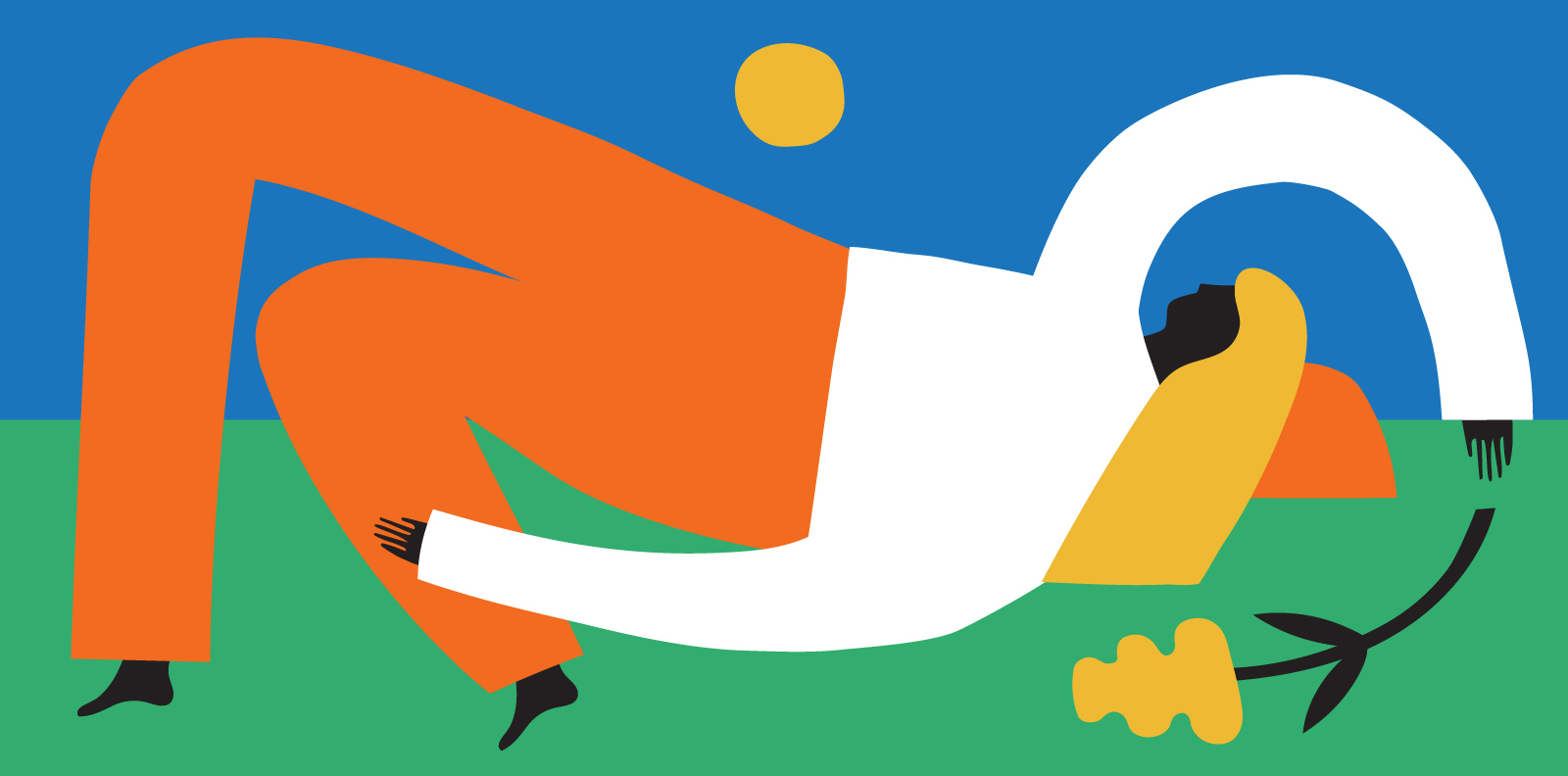 Viscaya Wagner, Some Sunny Day, Acrylic on Canvas, 48″ x 30″
Public Art Location: Gratiot Ave & Linnhurst St
My work is motivated by human nature, with the hopes that each image will touch upon the universality of human experience and provide joy, comfort, or the inspiration to act. 
Viscaya Wagner grew up in Vermont, coming from a family of artists, designers, and creatives. She studied at the University of Vermont, where she graduated with a BFA in Studio Art with a focus in Graphic Design. She currently lives, plays, and works in Brooklyn, New York.
Connect with Viscaya on Instagram at @honey_and_rust.
---
Thomas "Detour" Evans When We Get There
Public Art Location: Harper Ave & Marlborough St
My work occupies the space at the intersection of shape, color, space, and sound. I re-examine these elements and break with traditional methods of art making and art viewing, I direct immerse viewers in my world by creating work which respond to human interaction and forces the viewer to think their perception of how different elements relate to each other.
Growing up as a military brat, I was fascinated with the feeling of exploring and learning about new communities and cultures within the fabric of society. With a backdrop of an ever changing environment, I spent my youth asking questions about the boundaries, traditions, and status quo that boxes­ in creativity. I would always ask myself what boundaries can I break and how can I break them. This perspective of viewing the world led me to a journey of exploring a multitude of communities and how I could borrow different elements to create a new paradigm.
Connect with Thomas on Instagram at @detour303.
---
Ellen Rutt, Climate Change is a Global Emergency, Digital collage, 2019
Public Art Location: E. Grand Blvd & Cameron St
Ellen Rutt makes bold mixed-media paintings, murals, installations and wearables. Her abstract vocabulary of layered shapes and primary colors is applied to a variety of media to facilitate a conversation between materials and movement, places and process. As a multidisciplinary artist, her distinct style is recognized internationally through public murals and her studio work; however these facets of her artistic practice have remained separate.
Rutt has a Bachelor of Fine Arts from University of Michigan School of Art & Design. She has exhibited work at MOCAD, PLAYGROUND DETROIT, Red Bull Arts Detroit, Heron Arts, and painted murals in Detroit, New York, Chicago, Canada and France.
Connect with Ellen on Instagram at @ellenrutt.
Founded in 2015 in Brooklyn, NY, SaveArtSpace is a non-profit organization that works to create an urban gallery experience, by transforms advertisement space into public art by and for the local community. Launching exhibitions that address intersectional themes and foster a progressive message of social change. By placing culture over commercialism, SaveArtSpace aims to empower artists from all walks of life and inspire a new generation of young creatives and activists. SaveArtSpace has exhibited 128 artists on 155 advertising spaces – in 10 major US cities.
Detroit Art Week is an annual, self-guided tour and celebration of contemporary art and culture in Detroit. For five days, visitors are invited to attend gallery and museum exhibitions, open studios, intimate studio and site visits, artist talks and various special programs alongside the parties, music, nightlife and culinary experiences that make Detroit an exceptional city.
The post "Signs of the Time" Public Art Campaign Hits Streets of Detroit for Detroit Art Week 2019 appeared first on PLAYGROUND DETROIT.