Top Ten Detroit Month of Design 2023 Events to Attend
Detroit is best known as an underground city that sparks innovation and grit. Our thought leaders, change-makers, and hustlers inspire the entire world.
Design Core Detroit is helping to move the city forward with the 13th Annual Detroit Month of Design Festival. What was once only a week-long event has evolved into a month-long celebration of collaboration, community, and creativity. If you need assistance curating your September event calendar, consult our list in ascending order. 
10. Custer Open Studios
Join an eclectic group of artists and designers including Sarah Wondrack, END Studio, Simon Anton, Craig Hejka, Tony Rave, Ellen Rutt, Meredith Walker, Sheedo Magneto, Patrick Ethen, Paul Karas, Jacob Park, Marshall Sass, ALL MOTION STUDIOS, and Emilia Nawrocki. Explore new art on the Northend of Detroit. 
Event Details // Friday, September 15th, 4:30 pm – 10:00 pm
Location: 560 Custer Detroit, MI 48202
9. Mike Han: United by Design
Join Playground Detroit and Detroit-based artist and designer Mike Han for his debut exhibition. This show details Korean techniques, graffiti, and modern design. Han's work delves deeply into self-exploration, people, and the planet. Han's collaborations with Gardner White, Leon Speakers, SEE Eyewear, Detroitissimi, and Mothfire Beer integrate consciousness and sustainability. 
Event Details // Saturday, September 2 September 30
The Gallery is open Thursday – Saturday 12 pm-5 pm
Monday – Wednesday: Available by request
Location: 2845 Gratiot Avenue, Detroit MI 4820
8. Siren Art Wall – "Botanical City"
Join Gucci and Design Core for the unveiling of their new mural in collaboration with Detroit artist Onzie Deandre Norman. Botanical City celebrates Gucci's one-year anniversary in Detroit. 
Event Details // Mural on view beginning Friday, September 1st 
Location: 1509 Broadway Street Detroit MI, 48226
7. Ted x Detroit
Join Ted x Detroit for their annual gathering of thinkers, designers, entrepreneurs, educators, scientists, and artists. This day-long conference will help you discover the necessary tools to feel inspired. Ted x Detroit is the perfect place to develop new connections and collaborations.
Event Details // Thursday, September 28th, 8 am – 6 pm
Location: 2901 Grandriver Ave, Detroit, MI 48201
6. Shop and See
Join Design Core and Bedrock Detroit for a month of shopping. Each installation is in collaboration with local businesses and makers. Visits take place during regular shop hours.
2. Natalie Pryor – The Lip Bar
4. Laura Jamies – Good Neighbor
6. Taylor Childs – Throwback Home
9. Sherrie Savage – Busted Bra
9. Joe Reilley – Eastern Market After Dark 
Event Details // Friday, September 1 – Saturday, September 30
5. Trashion Show
Trashion show is a two-day avante-garde upcycling design challenge. This event focuses on sustainability and creativity. Designers will assemble garments out of discarded materials. Each designer will be filmed and judged by a panel of local business owners. Enjoy this entertaining re-imagining of old fabrics and plastics.
Event Details // DAY ONE: Sunday, September 3rd, 5:00 pm – 8:00 pm
Location: 1411 Holden St, Detroit, MI 48208
DAY TWO: Thursday, September 21st, 5:00 pm – 8:00 pm
Location: Winder Street, Eastern Market District
4. BLKOUT Walls Block Party 
BLKOUT Walls Block Party is a bi-annual event offering live paintings, panel discussions, pop-up art exhibitions, artist talks, DJs, and food vendors. Detroit-based artist Sydney G. James is the mastermind behind this family-friendly event.
Event Details // Saturday, September 16th 11:00 am – 5:00 pm
3. Interwoven
Interwoven is making an impactful statement about what it means to come to terms with our current state of living, experiences, and emotions. Detroit-based models, artists, floral designers, fashion designers, farmers, and musicians are all coming together to discuss climate change. Viewers will enjoy live music as they learn about what it means to come together to create meaningful change through art and design. 
Event Details // Saturday, September 23
Two shows on one night: 4 pm – 6 pm and 7 pm – 9 pm
Location: 611 West Philidelphia Street, Detroit, MI 48202
2. Opening Party and Design Crawl
Join the Consulate of Italy in collaboration with Downtown Detroit Partnership to kick off this month-long series. This evening celebrates local designers and creative projects. 
Event Details // Friday, September 1st 6:00 pm – 9:00 pm
Locations:
1). LoveITDetroit | 1001 Woodward
2). Space Lab Detroit | 607 Shelby St, Suite 700
3). Rossetti |160 West Fort Street, Suite 400
1.  Eastern Market After Dark
Eastern Market After Dark has become a deeply cherished staple during the Month of Design. This year the Gilbert Family Foundation is hosting the event. Visitors can look forward to food, live music, retailers, galleries, open studios, and brand activations. 
Event Details // Thursday, September 21st 6:00 pm – 11:00 pm
Location: Eastern Market Detroit | Shed 2 | 2518 Market Street, Detroit, MI, 48207
PLUS! CURATORIAL Committee Member 2023:
PAULINA PETKOSKI EVENT RECOMMENDATIONS
PANEL DISCUSSION @ NEWLAB DETROIT
Radical Collaboration is a panel discussion led by Design Core Executive Director, Kiana Wenzell, with featured artist, Mike Han alongside various collaborators in celebration of his solo exhibition, Mike Han: United By Design.
Detroit as a community represents strong collaborative efforts due to necessity and need. In comparison to a dense market and creative hub such as New York City, which is extremely competitive, Detroit's collaborative spirit may be our very own superpower. While access to resources and funding may be a challenge, the city and various regional partners already hold the key to future success.
This panel will explore how designers can best serve various collaborators and partners to align the vision of the future in order to work together to achieve radical transformation in design and position Detroit and Michigan to have a global competitive advantage. The goal of the discussion is to affect the future positively, help designers develop a point of view, and encourage the audience to focus on the 'why?' in addition to the how. RSVP TO ATTEND
Event Details // Wednesday, September 13, 5:00 pm – 9:00 pm
Location: Newlab, 2050 15th Street Detroit, MI 48216
FORM&SEEK: POETIC
This exhibition celebrates the 10th anniversary of the design studio, presenting Form&Seek's latest exploration of objects that blur the lines between craft and technology. Through its long-time research and experimentation, the design studio continues to investigate the meaning and broaden the conversation around contemporary craft.
The new collection presented in the solo exhibition includes a wide range of crafted pieces, from conventional forms prototyped with new technologies to pieces that play with natural formations and uses of the material. Each thought-provoking, poetic design object has a strong character and personality that displays the personal mark of the designer, whether through digital tools or hand tools.
Event Details // Opening Reception: Saturday, September 9th, 5pm – 7pm
Exhibition on view Wednesdays through Saturdays from 12 noon to 5 pm beginning September 13th – Saturday, October 7, 2023
Location: Simone DeSousa Gallery (Core City Location) 4725 16th Street Unit 3 Detroit, MI 48208
NEWLAB X MICHIGAN CENTRAL: THE ART OF INNOVATION; AN IMMERSIVE EXPERIENCE UNITING THE INTERSECTION OF ART AND TECHNOLOGY
Newlab x Michigan Central are opening their doors to the community for a showcase of Innovation, Technology, and Art. Attendees will view original artwork from local artists as well as prototypes from our member companies throughout the historic Book Depository building and the new Bagley Mobility Hub.
This exhibition will also highlight displays by Design Connect and Google Code Next. Tour our state-of-the-art shop spaces, have engaging conversation with entrepreneurs, inventors and artists, and listen to Stoop Lee as you enjoy the Newlab x Michigan Central experience. Refreshments will be provided.
Event Details // Tuesday, September 26, 5:00 pm – 9:00 pm
Location: 2050 15th Street Detroit MI 48216
CLEARLINE ISSUE 005 LAUNCH PARTY
Celebrate the release of Clearline Issue 005 at Convent Detroit! Clearline is an annual sustainable fashion magazine that addresses environmental concerns and their connection to fashion through submissions and interviews. This upcoming issue focuses on LAND: Farm to Fashion.
For the eyes: wander the space and discover featured 005 artists alongside local fiber artists on display as part of Detroit Fiber Club*'s inaugural exhibition, "Mending the Net." Keep your eyes peeled for information on our upcoming short experimental documentary featuring Celeste Malvar-Stewart, alpacas, and couture biodegradable garments, directed by Isabelle Tavares in collaboration with Niki Williams.
For the ears: literary editor, Elijah Sparkman, introducing the readers of the afternoon; creative director and co-founder, Carolyn Ridella, discussing the process of formatting the magazine and realizing its signature style; and editor-in-chief and co-founder, Sarah Sparkman, sharing the magazine's mission.
Copies of the new issue will be on sale, along with a limited number of previous copies. A majority of profits will be donated to a non-profit whose mission aligns with the themes of LAND: farm to fashion. Enjoy a reception with food and drinks, and new connections.
Event Details // Saturday, September 23, 3:00 pm – 7:00 pm
Location: The Convent | 13301 Mound Road Detroit, MI 48212
VIEW THE FULL SCHEDULE BELOW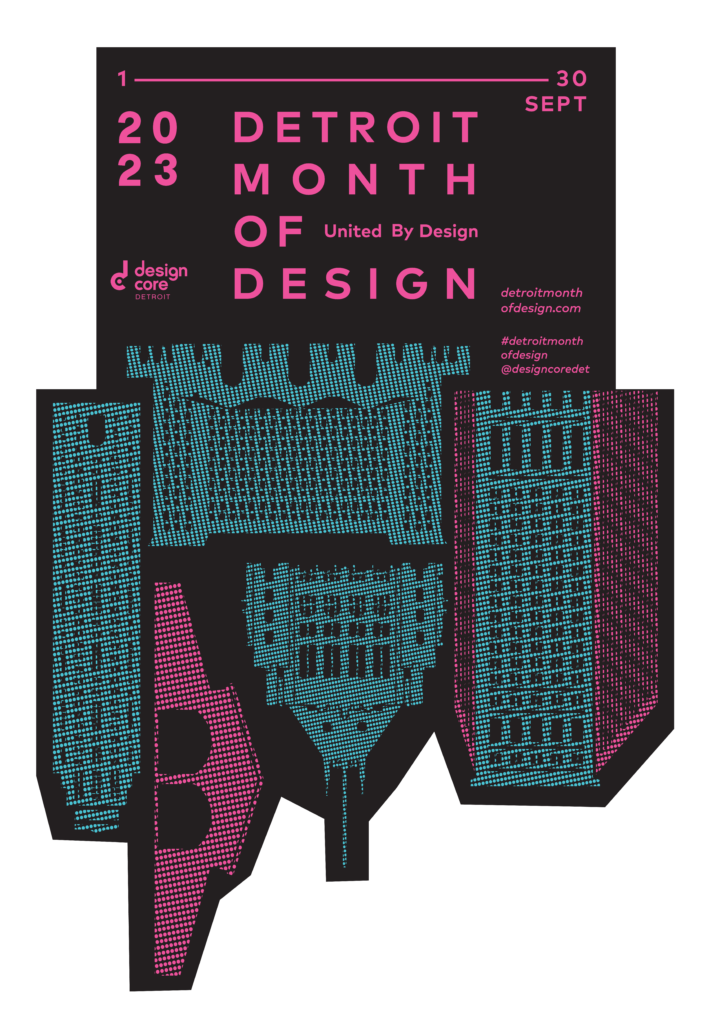 The post Top Ten Detroit Month of Design 2023 Events to Attend appeared first on PLAYGROUND DETROIT.