Video Premiere & Review: "Point of Return" features Performance Installation by Cristin Richard
One year ago, Detroit artist Cristin Richard sparked a conversation about "value" in contemporary society at The Detroit Club with her performance installation, Point of Return. We are pleased to premiere the short-film highlighting the 3-hour durational performance in retrospective, along with art critic and Kresge Literary Arts Fellow, Rachel Harkai's review (below video) Gut Feelings: Cristin Richard's Obsession with the Visceral.
Richard's work stems from an obsession with natural materials, their processes and histories. Conceptually, she is driven by cultural investigations.  With political and ethical concerns, her most recent questions boiled down to that of value in our society. Last year, she asked her audience:
"Is value now a Luxury?… If you are aware of what kind of sacrifice went into creating an object, does it not influence how you value it and how long you keep it?"  
Today, Cristin Richard hopes the world moves forward with strong intention, knowing that value should not be a luxury, but a necessity.  
Watch the premiere of Point of Return below.
GUT FEELINGS: CRISTIN RICHARD'S OBSESSION WITH THE VISCERAL
Words by Rachel Harkai.
Set amidst the opulent chandeliers and ornate wall coverings of the historic Detroit Club ballroom, Point of Return—a performative installation designed by Detroit-based artist Cristin Richard—evokes questions of value, luxury, and sacrifice. 
Through a sequence of theatrical movements repeated by live performers, the single-night event held in March 2019 spotlights a petite woman dressed only in stockings and undergarments. As she trembles in the center of the room, a cabal of tall, stern models draped in heavy furs circumambulates methodically. Their motions are suggestive of scavengers circling remains; their attention, however, focuses not on the woman at their center but is instead directed aggressively at the audience. Under fierce and wild eye contact, viewers shiver, giggle, and recoil. The sonic backdrop—a low and incessant pulse, suggestive of a beating heart—underscores the models' ominous, relentless pacing. 
Followers of her career will recognize Point of Return as an extension of Richard's long-term use of animal products as a primary material. Much of the artist's early sculptural work employs animal innards as a kind of fabric used to craft gowns with flowing trains and ornate bodices. Generally regarded as a waste product in today's American food industry, entrails were initially sourced easily and inexpensively by Richard from local butcher and packer supply stores. 
But the artist's relationship to the value of viscera changed suddenly during a 2013 residency in Iceland, where she found her typical materials were not just expensive, but extremely hard to find. Even when she could source entrails—infrequently and in small quantities at a local farmers market—Richard was dismayed to discover that what she purchased was typically unprocessed, sometimes requiring multiple days of cleaning and preparation before being usable in her art. For Richard, this marked a transformation; what was previously a cheap, cast-off by-product was now, in an alternative context, precious and rare.  
As Richard's relationship to her materials has changed, her work has concurrently become more interdisciplinary. As with Point of Return, her site-specific installations now activate a 360-degree sensory environment that includes sound (Richard's long-term partner and long-time collaborator, Nate Czarling, composes her soundtracks) as well as movement. Whereas Richard's sculptures might have once been displayed as ghostly installations suspended from fishing line or resting atop pedestals, the artist's choice to begin dressing living beings in her garments has allowed her to further interrogate notions of worth. Previously inaccessible and purportedly valuable art objects are transformed into functional goods that are easily torn and damaged by the wearer. 
With Point of Return Richard further complicates notions of luxury. Rather than wearing her own garments, performers instead model tens of thousands of dollars of coats on loan from Detroit's Dittrich Furs. And while Richard's selection of the lavish and historic Detroit Club as a venue highlights the city's undeniable indebtedness to the fur trade, a heavy tone permeates the piece, its gestures evoking fear, intimidation, and hunger.
By employing live performers Richard makes an object of her audience's willingness to engage; viewers are provoked and forced to question their trust in others. In Point of Return Richard entices with both sumptuousness and the promise of human connection, easing viewers into dialogue with materials and topics that might otherwise be too unpalatable—too visceral—for comfort. 
For more information, visit Cristin Richard's website.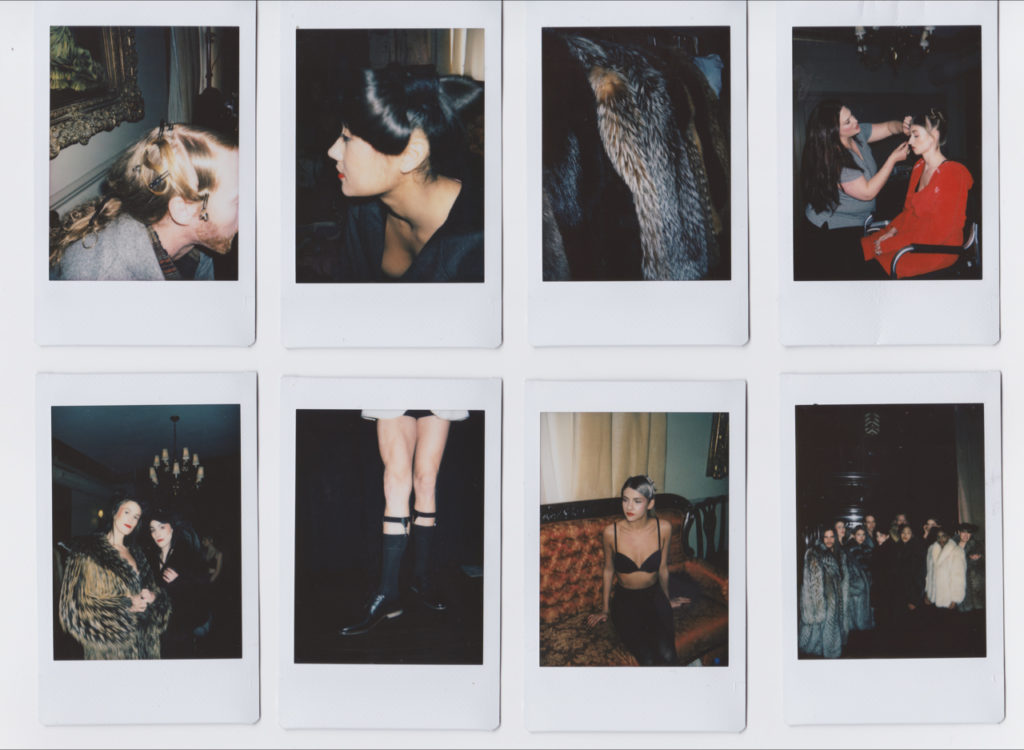 Film Credits:
Produced by PLAYGROUND DETROIT
Cultural Advisor: Kenza Amrouk/ KAC Agency
Sound Designer/ Co-Choreographer: Nate Czarling
Director of Photography: Margarita Grishina
Producer: Paulina Petkoski
Cast: Chet Hayes, Michael Shaw, Abigail Bunkelman, Hannah Bennett, Virginia Benson, Ayana Love, Cory Buttermore, Monique Becker, Lorenza Centi, Miles Marie, Shelbie Kramer
Hair Styling: Shelby Murphy
MUA: Michelle Michalak
Backstage Hands: Toya Golden, Mia Hutchinson, Michael Lapp, Roman D'Ambrosio
Special Effects Lighting: Al Casinelli
Mistress of Ceremonies: Tiffany Gazic
Special Thank you to Dittrich Furs and The Detroit Club
The post Video Premiere & Review: "Point of Return" features Performance Installation by Cristin Richard appeared first on PLAYGROUND DETROIT.